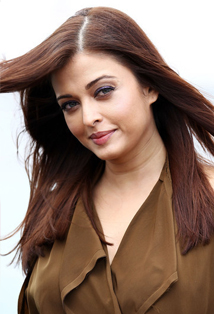 Alias
Abhishek Bachchan
Age
44 years
Height
5'8"
Occupation
Actress
Language Worked in
Hindi, Telugu, Tamil, Malayalam
Spouse

Abhishek Bachchan

Children

Aaradhya Bachchan

Birth Place
Mangalore, Karnataka, India
Eye Color
Blue
Hair Color
Black
Religion
Hinduism
Education
she attended Arya Vidya Mandir Secondary School. While studying in the nint
Marital Status
Married
Parents

Krishnaraj Rai

,

Brindya Rai

Brothers

Aditya Rai

Favourite Cuisine
South Indian
Favourite Color
White
City
Mumbai
Aishwarya Rai (also known as Aishwarya Rai Bachchan after her marriage Tulu pronunciation rəj born 1 November 1973) is an Indian film actress. She worked as a model before starting her acting career, and ultimately won the Miss India and Miss World pageant titles in 1994. Rai has starred in films in various languages including Hindi, English, Tamil, and Bengali.
Stage performances
Rai has taken part in several stage shows and world tours since 2001. Her first world tour, a series of concerts called Craze 2001, was performed across the U.S. alongside Anil Kapoor, Aamir Khan, Priety Zinta and Gracy Singh. The show faced early cancellation due to the 11 September 2001 attacks, and the team prepared to return to India as soon as possible. However, the shows continued successfully in Canada.In 2002, she participated in the show From India With Love in the UK, along with Amitabh Bachchan, Aamir Khan, Shahrukh Khan and Priety Zinta. It took place at two outdoor venues, Manchester's Old Trafford and London's Hyde Park, with over 100,000 spectators.In the summer of 2008,Rai, her husband Abhishek Bachchan, her father-in-law Amitabh Bachchan, and actors Preity Zinta, Ritesh Deshmukh, and Madhuri Dixit starred in the "Unforgettable World Tour" stage production. The first leg covered the USA, Canada, Trinidad, and London, England. Rai is also involved in the functional and administrative operations of her father-in-law's company, originally known as ABCL, and rechristened as AB Corp. Ltd. That company, along with Wizcraft International Entertainment Pvt. Ltd., developed the Unforgettable production.
Social work
In 1999 Rai participated in a world tour called the Magnificent Five, along with Aamir Khan, Rani Mukerji, Akshaye Khanna, and Twinkle Khanna. In the same year, she was appointed as Longines Ambassador of Elegance. In 2003 she became the first Indian actress to be a jury member at the Cannes Film Festival. In 2003 she became a global brand ambassador of L'Oréal, alongside Andie MacDowell, Eva Longoria, and Penélope Cruz. Rai is the brand ambassador for The Eye Bank Association of India's nationwide campaign to promote eye donation in India. In 2005 she became a brand ambassador for Pulse Polio, a campaign established by the Government of India in 1994 to eradicate polio in India. In the same year, Rai was appointed spokesperson for the International Year of Microcredit, raising awareness of the main goals and priorities of the United Nations' poverty alleviation efforts.
In February 2005 Rai performed alongside other Bollywood stars at the HELP! Telethon Concert, an event to raise money for the victims of the 2004 tsunami earthquake. Along with other members of the Bachchan family, she laid the foundation of a special school for underprivileged girls in Daulatpur village in Uttar Pradesh in 2008. Construction is being funded by the Bachchan family, and the school will be named after Rai. She appeared along with various other Bollywood actors at the closing ceremony of the 2006 Commonwealth Games in Melbourne. The performance showcased Indian culture as a lead-up to India hosting the 2010 Commonwealth Games.
Humanitarian work
Aishwarya is a UN Microcredit Spokesperson She supports PETA India She pledged to donate her eyes to the Eye Bank Association of India, and appeared in a public awareness film on eye donation.In November 2004, Aishwara Rai created the Aishwarya Rai Foundation to help needy people in India. In 2009 Rai was appointed as the first Goodwill Ambassador of Smile Train, an international charity that provides free Cleft lip and palate surgery to children in need. Her work with Smile Train will focus not only on India, but on 76 different developing countries around the world. In September 2012, Rai had joined United Nations Secretary General Ban Ki-moon and renowned Hollywood actor Michael Douglas at a ceremony to commemorate the International Day of Peace in New York.Later that week, she was appointed as the new international Goodwill Ambassador for UNAIDS, the joint United Nations programme on AIDS and HIV. She will raise global awareness on protecting children from HIV infection and increasing access to antiretroviral treatment.
Endorsements
Rai made her first commercial for Camlin pencils when she was in the 9th grade. Rai became popular after appearing in a Pepsi commercial with actor Aamir Khan.She is the only female actor to have endorsed both Pepsi and Coca-Cola .She is one of the top brand ambassadors in the country and is one of the top paid Bollywood actresses in this respect She modelled for Titan Watches,Longines watches, L'Oréal, Coca-Cola, Lakmé Cosmetics, Casio pager, Philips, Palmolive, Lux, Fuji films, Nakshatra Diamond Jewellery, and Kalyan Jewellers. She was named the official brand ambassador for De Beers diamonds in India. Rai has been ranked the 2nd most popular watch brand ambassador worldwide in a survey, conducted by World Watch Report.
In 1999, Rai began dating Bollywood actor Salman Khan; their relationship was often reported in the media until the couple separated in 2001. Rai cited "abuse (verbal, physical and emotional), infidelity and indignity" on the part of Khan as reasons for ending the relationship.[155] In a 2009 Times of India article, Khan denied ever beating her: "It's not true that I hit a woman."
Rai is married to actor Abhishek Bachchan, they met in 1997.Their engagement was announced on 14 January 2007 and later confirmed by his father, Amitabh Bachchan. The couple married on 20 April 2007 according to traditional Hindu rites of the Bunt community, to which she belongs. Token North Indian and Bengali ceremonies were also performed. The wedding took place in a private ceremony at the Bachchan residence, "Prateeksha", in Juhu, Mumbai. They have been described as a supercouple in the Indian media. Rai is very close to her family and lived with them in Bandra, Mumbai, until her marriage. Rai is Hindu and deeply religious.
Rai gave birth to a baby girl on 16 November 2011. Her daughter became quite popular by the name of "Beti B" which was christened by the fans and the media, since the couple took over four months to name their daughter. The baby girl was finally named as Aaradhya Bachchan in March 2012