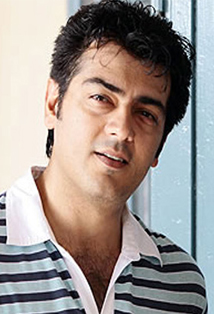 Alias
Ultimate Star, Kaadhal Mannan, Thala
Age
47 years
Height
5'8"
Weight
79.00 Kgs
Occupation
Actor
Language Worked in
Hindi, Telugu, Tamil, Malayalam, English
Spouse

Shalini

Children

Anoushka

Birth Place
Hyderabad
Eye Color
Dark Brown
Hair Color
Gray
Education
10 Std drop out from Asan Memorial Sr. Sec. School in 1986
Marital Status
Married
Parents

Subramaniam & Mohini

Brothers

Anup Kumar

,

Anil Kumar

Favourite Cuisine
South Indian
Favourite Color
White
City
Chennai
Ajith Kumar(born 1 May 1971 in Secunderabad, Andra Pradesh, India) is an Indian film actor, consider
Acting Career
Early career
Ajith was born as the middle child in Secunderabad, a northern district of Hyderabad, India, to a Tamil Iyer father from Palakkad and a Sindhi mother, but was brought up in Chennai, Tamil Nadu, hence learning Tamil since his childhood. He dropped out of Asan Memorial Senior Secondary School in 1986 before completing his higher secondary. He took up work as a two wheeler auto mechanic, and got himself a driver's licence to coincide with his interests, that of car / bike racing. At 18, Ajith had to take up a job to support his career in racing. Joining as an apprentice, he rose to be a merchandiser with a garment export company, doing small-time press ads and TV commercials occasionally. He had put a lot of money into racing and would borrow tyres from his friends who used to help when the chains wore out as there was no money in racing at that time. Following an accident, several business agencies pushed him into modeling for advertisements in print media. He had to make a choice between films and racing, and as the movies were happening and generating him some money, he began concentrating on it.
Aged 20, Ajith was selected by Telugu film producers, Lakshmi Productions, to star in their film; however shooting was stalled soon after filming began, following the death of the film's director. Ajith then started his film career at the age of 21 appearing in the low budget Telugu film, Prema Pustagam in 1992, which remains his last direct Telugu film to date. His first Tamil film Amaravathi, directed by then newcomer Selva, was a moderate success and his voice was rendered by fellow actor, Vikram. After the release, Ajith whilst training for an amateur motor race, suffered a fall, injuring his back and underwent three major surgeries resulting in a bed rest for one and a half years. Following the injury in 1993, Ajith played a supporting role in the Arvind Swamy starrer, Paasamalargal, before appearing in a supporting lead role in the family drama, Pavithra, which featured him as an ailing patient shown maternal affection from Raadhika.
In 1999, during ths shoot of Saran's Amarkalam, Ajith began to date his co-star Shalini. At that time, their involvement made him a regular subject of tabloid gossip, a role to which he was accustomed following his previous relationship. Ajith proposed to Shalini in June 1999, and following consultations with her family, she agreed. They were married in April 2000 in Chennai ina grand ceremony. As both were of different religions, Ajith being a Hindu Brahmin and Shalini being Protestant Christian, they were married together under the customs of both religions. After their marriage, Shalini retired as an actress and became a full time housewife, following the completion of two unfinished projects.On 3 January 2008, their daughter, Anoushka, was born in Chennai.
Ajith claims himself to be a professional "car racer" and has driven in circuits around India in places such as Mumbai, Chennai and Delhi. He has also been abroad for various races including Germany and Malaysia. He drove in 2003 Formula Asia BMW Championships.