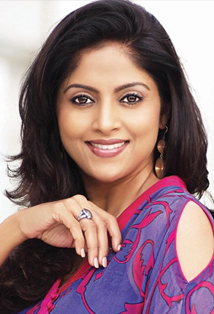 Alias
Nadhiya, Zareena Moidu
Age
50 years
Height
5'4"
Occupation
Actress
Language Worked in
Telugu, Tamil, Malayalam
Spouse

Shirish Godbole

Children

Sanam

,

Jana

Birth Place
Kerala, India
Eye Color
Black
Hair Color
Black
Religion
Hinduism
Marital Status
Married
Parents

Moidu

,

Sawalha

City
Kerala
Zareena (also known by her screen name, Nadhiya or Nadia Moidu Malayalam: നദിയ മൊയ്തു) is a Malayalam and Tamil film actress who made her debut in a Malayalam movie named Nokketha Doorathu Kannum Nattu, alongside Mohanlal and Padmini. This movie was re-made in Tamil as Poove Poochudava during the 1980s with Padmini and marked her debut in Tamil. She currently acts in leading character roles. She has acted alongside most of the leading artists in the Tamil and Malayalam film industries. She has also acted in a few Telugu films.
After her marriage, she settled abroad with her husband and two children. She currently resides in Mumbai with her family. She made a comeback with blockbuster hit M. Kumaran Son Of Mahalakshmi. The film received critical acclaim for her performance as Jeyam Ravi's mother.
In 2008, she signed on as the brand ambassador for Arokya Milk and Thangamayil Jewellery. She recently appeared in a Tamil movie named Pattalam, which released on March 27, 2009. Nadhia hosts a popular television show called Jackpot, replacing actress Khusboo on Jaya TV.
One of her erstwhile childhood friends is actress Ponni Swaminathan of Bicycle Bride and Night of Henna fame.