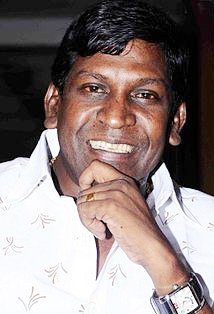 | | |
| --- | --- |
| Alias | Vaigai Puyal |
| Age | 57 years |
| Height | 5'8" |
| Weight | 72.00 Kgs |
| Occupation | Actor, Singer, Producer |
| Language Worked in | Telugu, Tamil, Kannada |
| Birth Place | Madurai |
| Eye Color | Black |
| Hair Color | Black |
| Marital Status | Married |
| Favourite Cuisine | South Indian |
| Favourite Color | White |
| City | Chennai |
Born in the city of Madurai, Vannar Vadivelu is popularly known as Vaigai Puyal, meaning "the storm from the Vaigai River (which flows through Madurai), for his high sense of humor. Before his film career, he was working in a small shop where glass frames for photos and paintings were made. He was struggling with his monthly income of just a few hundred rupees. His fortune improved when his film career took off. By 1994, he owned a Tata Sierra (which was then considered a luxury).and credit goes to Rajkiran who introduced vadivel in his film.
Vadivelu's roles involve heavy use of slapstick and puns, which has led him to be typecast. His comedy sequences typically end with him getting soundly thrashed and a closing one-liner from him bemoaning his situation or antagonists. Some of his famous lines are "Aaha oru guruppa thaaanya alayaraangaya" (roughly translates to "These people seem to roam around in groups to pick on him"), "vanduttangayya, vandutanngya" (in Tamil this announces the arrival of his soon-to-be tormentors) and "aavana nee?!" (are you him?!). His popularity could be ascribed to the general audience being able to identify with him thanks to his rustic looks, accent and body language. This is unlike other actors, especially heroes, who are generally perceived as ideals, adored but not seen as the guy or girl next door. He has worked in over 350 films.
During the legislative assembly elections that took place in Tamil Nadu during April 2011, Vadivelu vehemently campaigned for the Dravida Munnetra Kazhagam (DMK) and its alliance. During his public speeches, he predominantly condemned politician and actor Vijayakanth, whose party, the Desiya Murpokku Dravida Kazhagam (DMDK), allied with the opposition party All India Anna Dravida Munnetra Kazhagam (AIADMK), headed by J. Jayalalitha.
His allegations of Vijayakanth included him being a "drunkard". In a campaign speech in Tiruvarur, Vadivelu stated that "(his) only aim is to sweep out Vijayakanth's whole team and to campaign vigorously for DMK's victory". Vadivelu was criticized as being biased, only supporting a DMK-led victory for personal gains and not once mentioning anything against the official opposition, the AIADMK, or its leader. In a turn of events, the election was eventually successful for the AIADMK alliance while Vijayakanth was victorious by a significant margin in his own constituency. Vadivelu has since disappeared from the public eye.