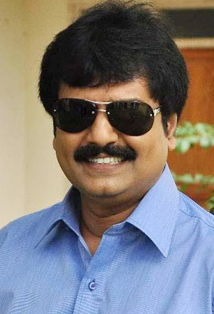 | | |
| --- | --- |
| Alias | Chinna Kalaivanar, Janangalin Kalaignan |
| Age | 56 years |
| Height | 5'8" |
| Weight | 62.00 Kgs |
| Occupation | Actor, Singer, Dialogue, Story |
| Language Worked in | Tamil |
| Spouse | Kavitha |
| Birth Place | Madurai, Tamil Nadu, India |
| Hair Color | Black |
| Marital Status | Married |
| Favourite Cuisine | South Indian |
| Favourite Color | White |
| City | Chennai |
Vivekananthan (born 19 November 1961) is an Indian film actor and comedian of the Tamil film industry. He has won 3 Filmfare Best Comedian Awards for his performances in Run, Saamy and Perazhagan , respectively. In April 2009, Vivek received the Padma Shri award by the Government of India for his contribution to the arts. He was introduced to filmdom by renowned director K. Balachander.
Vivek debuted in with Manathil Uruthi Vendum in 1987. Later he played roles in Kushi, Minnale, Run and Saamy.He is known for his ever-young looking appearance . He is a multi talented person and is known for his punches and rhythmic dialogues related to the society and its problems, national politics and problems like health, education, social affairs, unemployment, black money, love, population growth etc. He is a keen keyboard player.He dominated the cine field for comedies during the period 1999–2008.
He is also very well known for his talent of mimicry like actors such as MGR, Sivaji, Rajni, Kamal, Vijay, Vijaykant, Solomon Papaiah and many others.[4] He is considered the cinematic heir of Nagesh in the cine field's comedy section In 2009, he received Asianet Film Award for Special Honour Jury Award.[citation needed]. He celebrated 25 years of his acting in Tamil cinema. He has never acted with Kamal Haasan, which he comically said in the latter's 50th year of acting celebrations.
N. S. Krishnan was the first comedian to bring social issues into humour. Both NSK and M. R. Radha have been my inspiration. Like them, I have also spoken about the future. I discuss with my team about current issues and work on the scripts. I am careful to tell even serious issues in such a way that it does not hurt the sentiments of anyone. It is a tough job. They always say that comedy is not a joke. Mahatma Gandhi has said: "If I had no sense of humor, I would long ago have committed suicide