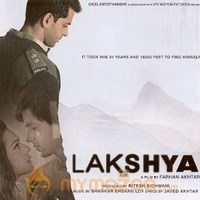 Lakshya Review
by

MyMazaa.com
---
Noble is not a word that's easily applicable to mainstream Hindi cinema - not when so much of it is about having a good, if not a sleazy, time.
But here's a rare, refreshing, path-breaking film that is as noble in intent as it is in treatment. Intensely individualistic and pioneering in its fusion of a social conscience with fiction, "Lakshya" takes us to Kargil...slowly and deliberately.
The pacing of the narration is so uniquely unhurried, you wonder if Farhan Akhtar is out on a sublime stroll through a picturesque highway where, like his aimless protagonist Karan, he can encounter anything at any point.
But you soon realize nothing is by chance in this film about finding one's metier in life. "Lakshya" takes us through one man's journey into finding a purpose in life. The punctuation marks, like Hrithik's subtle, shaded performance, are discernible in the way Farhan Akhtar glides in and out of situations so wonderfully created in Javed Akhtar's screenplay.
For a film about an inner battle and an on-location war, the soundtrack of "Lakshya" is awfully quiet. The distracting stillness secretes expressions that become apparent to those who care to listen to the sounds of silence, punctuated by bouts of booming guns and the sounds of wounded soldiers as they reclaim land from the enemies.
"Lakshya" is really about one individual's odyssey in life from embarrassing idleness to redeeming self-motivation. This epic transition is achieved through layers of illuminating leitmotifs -- the wonderful soundtrack by Shankar-Ehsan-Loy for one.
You may not think much of the songs and music on the tape. But on screen they light up the characters' inner motivations as fluently as they create a sense of ongoing poetry in the narration.
"Lakshya" has the fluent flow of poetry but not the ornate opaqueness. The verse in the visuals is unique to this film.
Hrithik takes the aimless urban drifter - the kind of south Mumbai brat who wakes up at noon and takes hard decisions on which parties to attend in the evening - far beyond where Aamir Khan took it in "Dil Chahta Hai".
Hrithik creates a gripping graph for his character. The before-and-after effect whereby Karan goes from lay about to soldier could have easily become a caricature. But Hrithik plays it subtle. And shaded.
And that's what makes it so special. It's time to acknowledge Hrithik as the most devious and engaging actor of contemporary times. Like Lata Mangeshkar's lyrics, Hrithik's dance steps seem to have been invented on the spot. He's effortless and flawless.
As Romila the TV journalist, Preity Zinta does a Barkha Dutt with lip-smacking credibility. Her terse but well-articulated relationship with an ostensibly liberal fiance, who finally gives her a choice between a career and marriage, is one of the many by-lanes that Farhan's film takes before cruising the highway to heroic redemption. She's a perfect foil to Hrithik's intense introspective performance.
But the film features other extremely talented actors like Om Puri, Lilette Dubey and specially Amitabh Bachchan in glorified cameos. Boman Irani's comparatively more spacious part as Hrithik's father never gets going. The father-son conflict, like the Hrithik-Preity love story, is woven into the battle with free-flowing facility.
Bachchan is a special disappointment. He has neither the space nor the chance to grow beyond the space provided. The only actor who makes some impression beyond the all-pervasive impact of Hrithik's main performance, is Sushant Singh as the Muslim soldier. Singh features in one of the film's slyly jingoistic moments when a Pakistani voice on the phone asks the Indian soldier if he's a Muslim. "Right now, I'm only an Indian," is the rabble-rousing reply.
Javed Akhtar's splendid skill as a rhetorician really rocks in the scene where Romila is tongue-lashed by a bitter soldier.
Apart from Hrithik if there's any other hero in "Lakshya" it's cinematographer Christopher Popp. The film is shot not only in real colors but shades that heighten reality without tampering with the tenor of the seductive storytelling. The peaks of Ladakh and the ruins of Delhi are projected into the plot with an inevitability that suggests a link between emotional topography and geopolitical reality.
Javed Akhtar's work both on the screenplay and dialogues is refreshingly free of triteness and bombast.
Though epic in quality, the film chooses to be quiet about its ambitious design. "Lakshya" is as inspiring as it is an inspired piece of cinema.