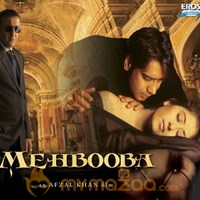 Mehbooba Review
by

MyMazaa.com
---
€˜Mehbooba€™ comes across with the likes of Sanjay Dutt, Ajay Devgan and Manisha Koirala. You might be wondering how come Manisha plays the heroine in 2008 when she has almost vanished from the film circuit. Well, take a closer look at a much slimmer Manisha and the drastically younger looking Sanju Baba and you will definitely figure out that the movie is maybe over 6-8years old.
The film fuses is various elements of bollywood like numerous dance sequences with enormous sets, Manisha Koirala in the midst of two men , elements of €˜Hum Dil De Chuke Sanam€™ and a battle for love between two brothers that would have worked years ago.
Synopsis€¦
Shravan (Sanjay Dutt), a casanova, loves being in the company of beautiful and desirable women. His charm and money gets him any beauty he desires till he meets Varsha (Manisha Koirala).
Varsha is the first girl in Shravan's life who says 'no' to his advances. Shravan is not the type who would take no for an answer. Yet, he realizes his mistake and apologizes to Varsha. To make amends, he asks for Varsha's hand in marriage. Varsha's father convinces her that he is a changed man now and genuinely loves her. After much deliberation, Varsha agrees and they get engaged. Soon, their romantic sojourn ends in lovemaking.
Varsha's dream comes to a shocking end when Shravan tells her that his love for her was just a drama so he could sleep with her. Heartbroken and shattered, Varsha feels shattered, her father dies of heart failure. She leaves New York and starts life afresh in Budapest.
Much later, Shravan's younger brother Karan (Ajay Devgan) decides to get married. The girl is Payal, who, in actuality, is Varsha. Is this a plan by Varsha to teach Shravan a lesson? What happens when Karan gets to know what transpired between Varsha and Shravan?
Director Afzal Khan handles the proceedings well but the story by Rumi Jaffrey is outdated. Also the film drawing tremendous resemblance to €˜Hum Dil Chuke Sanam€™ offers nothing new from Ajay Devgan. The similar drunk sequences, the same lines of returning the heroine back to her first love etc.
Manisha Koirala who was at the peak of her career when the film was shot does well. She emotes and expresses but wonder whether today€™s audiences would accept her in a wet red sari dancing across the screen.
Sanjay Dutt or our very own Munnabhai who is the ultimate good guy for all Indians after the Munnabhai series has been portrayed as a Casanova who rapes his wife and then dumps her. Well though the latter half of the film portrays a change of heart, audiences may not approve Sanjay as the Casanova. Also take a look at the lack of continuity is the film as Sanjay goes from long hair, younger looks to the present looking Sanjay Dutt. Afzal Khan can€™t be blamed for that as this film was being shot in the midst of all court hassles surrounding Sanjay.
The music by Ismail Darbar is not bad with couple of tracks actually seeping into you. The album would have been a sure hit years ago.
One element that comes across as a treat in the film is Ashok Mehta€™s cinematography. It€™s brilliant capturing the various locales of Budapest and Rajasthan.
On the whole, the film is definitely not headed for success at the multiplex€™s but caters more to the single screen audiences who still enjoy watching films with over 6 tracks and all that family drama . The film is definitely good for it€™s time but falls flat in the present.
Rating : *1/2