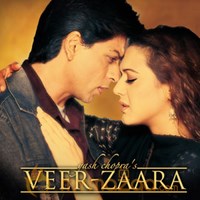 Veer Zaara Review
by

MyMazaa.com
---
"Which era do these people belong to!" Rani Mukherjee exclaims about the Pakistani girl and the Indian man who live with the "idea" of love for 22 years.
Old yet passionate, frail yet sublime, the estranged lovers in Yash Chopra's eagerly awaited film are no ordinary love birds. Their body language, demeanor, speech and attitude hark back to an era when emotions were hallmarks of human nature, not designer things to be used as and when required in bubblegum concoctions that masquerade as romantic musicals in our wretched times.
By the time the utterly evocative theme song about two inseparable souls torn apart by fate comes on, we're so enamored of Yash Chopra's film that we surrender entirely and unquestioningly to his prescription of romantic passion.
Just when we thought heart-warming tales of undying love were a dying art form, "Veer-Zaara" comes along. It is the sort of sublimely designed, delicately threaded romantic fable that comes once in a while to win hearts and influence people.
After all, a film directed by Yash Chopra is no ordinary event. "Veer-Zaara" is a little more extraordinary than we expect it to be.
While telling a fluent story about a love that cuts captivatingly across the India-Pakistan border, Chopra, for the first time in his romantic oeuvre, introduces ideas that transcend romance.
Through the strong and very memorable character of the rookie lawyer Samiya (Rani Mukherjee), ideas on female literacy and women's empowerment seep into the narrative.
Nothing about the romance between the Indian Air Force pilot and the aristocratic Pakistani girl is overstated. There are no raised voices (even when the heroine's father scolds her he does it sotto voce).
There's no screaming, no attention-getting tactics...And yet the films gets it...All of our attention, though it takes a bit of time to get over the longish bits of Punjabi dialogues among Amitabh Bachchan (playing Shah Rukh's prankish old-man), Hema Malini (hopelessly out of her depth in the robust Punjabi milieu), Shah Rukh and Preity.
Once the slight hiccups are done, it's as simple as falling in love.
"Veer-Zaara" builds its case for the protagonists' unbreakable bonding through a neo-classical blend of song and emotion. Chopra unleashes a temperate tidal wave of feelings that swim teasingly just beneath the surface.
The surge of love between two people belonging to entirely different cultures and lands is collected into a quaint and quivering collage of memory and melody.
The narration moves of its own melodious volition. The music and songs by the late Madan Mohan and the profound yet simple poetry of Javed Akhtar supplement the melody of romance with enchanting articulations of heart that know not why they love and sing. They just do.
Chopra has terrific help from cameraman Anil Mehta who beautifies the rugged rural landscape without making it appear fairytale-like in proportion. Shah Rukh and Preity fill the splendid rustic spaces with sounds of love.
But the protagonists' geopolitical credentials never appear forced or labored. Veer and Zaara are who they are. In sequences such as the one where Veer meets Zaara's fiance (Manoj Bajpai) on the railway station, or when Zaara's mother (the brilliantly passionate Kirron Kher) implores Veer to give back her daughter for the sake of family honor, are potentially cliched situations converted into a celebration of life through the writer's imagination.
The writing skills imparted to the story of 'forbidden' love are immense, and so is the performance level of the cast. Rani's deeply studied, utterly heroic part of the activist-lawyer is uplifting.
Once again Shah Rukh confers his charismatic personality on a role that has many shades of emotions. His performance as the old man in the courtroom where after being absolved of all crimes he reads out a poem is rabble rousing.
And those who thought Preity couldn't be rustic and earthy, better watch how she slips into Zaara's slippers, imparting a coltish seductiveness to the part. Kirron Kher, Divya Dutta and Manoj Bajpai bring tremendous feeling to the supporting parts.
But the director's true allies in this creative endeavour are the photography and the music. The use of spatial harmony in the haunting climactic song "Tere liye" is a measure of Chopra's power and skills of narration. The calibre of the late Madan Mohan's music is certainly high grade. Many scenes are elevated by the quality of music.
"Veer-Zaara" is a very simple story of immense nobility and idealism. Its contours are fleshed out with the most precious colors of life to complete a picture that is at once symmetrical and sublime, sweet, tender and yet secreting a core of strength and conviction that takes it beyond the conventional romantic musicals.