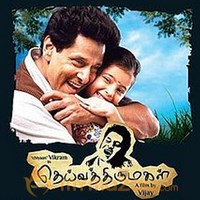 Deiva Thirumagan Movie Reviews
Deiva Thirumagan Review
by

MyMazaa.com
---
Deiva Thirumagal Story:
Krishnan (Vikram) who has the mental growth of a five year old works in a chocolate factory in Ooty for his livelihood. He takes care of his six year old daughter Nila (Sara) as his wife passes away. Nila loves her father very much and refuses to go to school by knowing the condition of her father. One fine day Nila will be snatched away by Krishnan's father-in-law Rajendran (Sachin Khedkar) and wife's sister Shwetha (Amala Paul).
Rajendran is rich and affluent wants the custody of his grand daughter as it would not be safe for her to live with a mentally challenged person. Krishnan with the help of his friends will be introduced to Anuradha Ragunathan (Anushka) and Vinod (Santhanam) Anuradha after knowing the entire case synopsis accepts to fight for Krishnan in the court of law for bringing the father and daughter together. Will Krishnan get the custody of his daughter Nila back? How Vikram's wife passes away? What is the dark past of Vikram? How he turned as a mentally challenged person forms the rest of the story which leads to a stunning courtroom climax.
Performances:
Vikram has never failed to reach the kind of expectation he had set amongst the audience. The audiences can surely feel the hard work of Vikram, as he gave his best to the role of Krishnan. Vikram perfectly portrayed the character's boyish appeal and his self-control in the courtroom scene and his emotional dialogues in the climax, are heart touching.
Anushka has come out with her best ever performance as the lawyer. She once again proved that she is not an actress confined to only skin show.
Sara as Nila is the show stealer as Vikram's daughter, the attachment between the father and daughter is shown very well and seems like a reality. Especially the court scene is well picturised which will make each and every one emotional.
Amala Paul plays the role of a teacher and had done reasonably well. Nassar as Bashyam, who played the cunning and clever public prosecutor is extraordinary in his crucial role.
Santhanam has done quiet comedy superbly and one can surely say that Santhanam's role is an added essence to the film.
MS Bhaskar as Murthy, Sachin Khedkar as Rajendran and Surekha as Rajee are apt for the roles and well designed by director Vijay.
Technicalities:
Vijay has yet again proved that he is here to stay with Deiva Thirumagal. It required lots of dedication and commitment while penning the script. He has taken best out of his team. He has shown immense maturity in handling such a difficult theme and working it out well with right entertaining and engrossing elements. His nose for minute details is worth mentioning. His skillful and catchy screenplay worked out right magic.
Cinematography by Nirav Shah is good while T Santhanam's set designs are the biggest assets for the film.
GV Prakash has blended his background music very well and his songs have already won the hearts of the audience.
Analysis:
As the film is inspired from Sean Penn's I Am Sam, the first half of the film is predictable and a bit slow. The story moves in a relaxed manner and the actually film begins only in the second half which is very emotional and interesting. It is a film that would send positive vibes among those who love meaningful films.