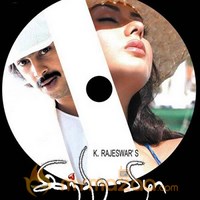 Indhira Vizha Movie Reviews
Indhira Vizha Review
by

MyMazaa.com
---
Here's a film in which its three heroines, Namitha, Hemamalini and Ragasiya, compete to the maximum of their natural abilities on who can reveal a bigger cleavage.(Like how Ragasiya displays her barely clothed body and says 'I'm completely natural' to a stony-looking Srikanth). There's hardly a chance you will notice anything else in a movie with such a poorly executed script like 'Indira Vizha' whose focal point of attraction seems to be the thunder thighs, wide waistlines and above.
To be fair, the movie may not be perceived as a rip off of 'Aitraaz' or its more captivating English version, 'Disclosure'. Isn't the story of a vengeful lusting woman criminalizing the man who refused to bed her as old as Shakespeare's works?
The film is the story of Kamini (Namitha) getting back at her ex lover Sridhar (Srikanth) by reentering his life as the wife of his boss, played by Nasser. Srikanth plays the creative head of a television channel Teen TV (though it does indulge in political exposes), who is married to debutant Hemamalini.
His life turns topsy-turvy when Nasser reinstates Namitha as the head of the TV channel, a promotion Srikanth anticipated for himself. Following this, it is the simple story with Namitha hurling sexual harassment accusations at him.
The film has an age-old, yet watchable story line that lends itself to many twists and turns but it suffers from a screenplay technique that's older than our hills. The three heroines, who gyrate in regular intervals in skimpy clothes, give the film a sleaze flick look, while its hero Srikanth managed to do a decent job as the suave youngster.
Comedy is supposedly the department of Vivek, who hardly makes you smile, while Y Gee Mahendra, as the conniving lawyer, elicits more laughs. But the courtroom scenes are a joke in themselves, given the callousness with which they have been filmed. Vivek's antics at the courtroom are anything but enjoyable.
The show stealer of the film is clearly Namitha, who needs to shed more kilos before deciding to shed her clothes for more oomph. The actress is at her glamourous best, even if it is in the courtroom. Namitha does come across as stylish and fits the bill for her character, with a dubbing voice (Suchithra) that suits her well. Hemamalini needs a check on her weight, even as her performance for a new comer is decent, much like Ragasiya.
Music for the film is by a new comer Yatish, and you still may not want to go kind on the youngster who has remixed 'Oru Kinnathai" from 'Vasantha Maaligai', highly misplaced during the course of the court investigations.