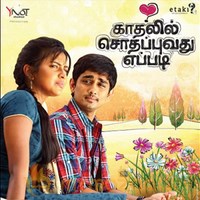 Kadhalil Sodhapuvadhu Yeppadi Movie Reviews
Kadhalil Sodhapuvadhu Yeppadi Review
by

MyMazaa.com
---
Story
The story takes off with Arun (Siddharth), who is an engineering student describes about his failure relationship with his girlfriend Parvathi (Amala Paul). He narrates how he has seen Paravathi, fell for her and the following consequences like ego clashes that led them to go for break up. Arun later sees similar incidents in his close pal's life and in this regard he realizes his true love for Parvathi and the way he is missing her. How does Arun realize what does he do to get back his love is all about Kadhalil Sodhapuvadu Yeppadi.
Performances
Siddharth looked young and energetic and he has sleepwalked through the urbane lover boy role in the movie. He is admiring and maintained the seriousness and confused attitude throughout.
Amala Paul looked perfect as Parvathi. She looked cute and has delivered her best when it comes to the performance. Her chemistry with Siddharth has worked well.
Suresh and Surekha Vani are apt for the roles while the rest of the cast did their bit as required.
Technical Analysis
Cinematography by Nirav Shah is an asset for the film. The songs have been neatly pictured and Thaman's melodious tunes are good and hummable. The background score is elevating. Dialogues are apt and at times hilarious. Balaji Mohan direction is good. Kadhalil sodhapuvadu yeppadi story is unique but the screenplay could have been better in the second half.
Analysis
Director Balaji Mohan has come up with a unique and fresh storyline that youngsters get connected. The director has looked into the way the present youth are thinking about love and how they are ending up relationships with the silly issues and ego clashes. Balaji Mohan has stuck to the script and did not add any illogical content to embellish it as commercial entertainer.
The presentation is appealing, script is novel but the screenplay and narration could have been better in the second half as it seem to be dragging. The protagonist speaking directly to the camera is a novel idea to Telugu cinema and Siddharth does it effectively. The first half of the film goes on a lighter mode with romance and comedy as engaging moments while the second half moves on a slow pace with a couple of twists and sentiments.
Final Verdict
Kadhalil Sodhapuvadu Yeppadi is urbane romantic entertainer that connects well with the youth!!!