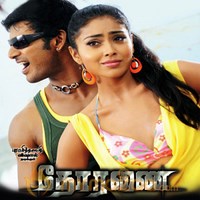 Thoranai Review
by

MyMazaa.com
---
Making a movie for the masses loaded with heroism is never an easy task. But all credit to debutant Sabha Ayappan, who has managed to walk the tight rope with glee. With Vishal at the scheme of things, the young film-maker has managed to cook up a racy and pacy masala mix that sustains interest right from the first frame.
After experimenting on screen with his last Sathyam (which ended up as a debacle), Vishal has chosen to continue his journey in a way that was typical of him till Sathyam. Thoranai is an 'unadulterated formula film' which has commercial elements packaged at the right mix.
The movie touted as hilarious entertainer, has loads of heroism with Vishal not just flexing his muscles but uttering punch lines that would draw cheers from his fans. The pace at which it progresses make one forget the logical loose ends in it.
Sabha Ayyappan seems to have recycled several scenes that were oft-seen and admired in mass entertainers of actors like Vijay and Vishal too to an extent. In a nutshell, it is about a young man ( Vishal), who comes to Chennai in search of his brother, who had eloped from the house several years ago. Shock
Guru (Kishore) and Thamzhirasu (Prakashraj) are dreaded gangsters in Chennai. They are against pitted each other and fight to establish their supremacy in city. They indulge in gang war painting Chennai red. Enters Murugan (Vishal). A native of Madurai, he comes to Chennai with a mission. He leaves his village promising his mother (Geetha) that he would return only with his brother, who had run away from the house about two decades ago.
Murugan gets the help of his friend Veluchamy (Santhanam). He comes across the gangsters and a sequence of events results in him incurring both their wrath. In a bloody duel with Guru, he comes to know that he is his brother, whom he has been searching for long. Now he is entrusted with the task of protecting him from Thamizharasu. How he accomplishes his task forms the crux. In between, he sings romantic duets with Indhu (Shriya), an IT employee, whom he falls for at the first sight during his stay in Chennai.
It is a callous Vishal all through the movie. He does the task entrusted to him properly. His encounters with Prakashraj make an interesting watch. Vishal excels not just in stunt sequences but also in comedy. Shriya makes a breezy appearance as Vishal's ladylove. She sings a couple of songs in skimpily clad costumes and tries humour in the company of Aarthy. Santhanam as usual entertains with his double entendre which would go down well with the front-benchers.
Prakashraj is back in his familiar territory playing a menacing baddie. As a dreaded gangster, he fulfills his job. Kishore as Vishal's brother is adequate for the role. His subtle performance does lend some credibility to his character. The movie boasts of a huge star cast which includes Lal, M S Baskar, Shayaji Shindae, Mayilsamy, Paravai Muniamma and T P Gajendran. Manisharma, who rendered peppy tunes in Vishal's Malaikottai before, seems to have disappointed this time around. The songs fails to impress.
The movie which proceeds at quick pace post-interval seems to have lost his way towards the second half. It becomes more clichéd and predictable. At many places the dialogues too give one a feel of having been heard before many times.
Produced by GK Film Corporation, Thoranai is an unpretentious entertainer for those who love mass themes loaded with commercial elements. Unwind yourself and sit back for a racy entertainer this hot summer.