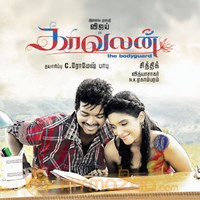 Kaavalan Review
by

MyMazaa.com
---
Kaavalan the most awaited movie for Pongal is finally out in big screens. The film released in 350 screens in TamilNadu and the overseas release may happen in the coming week. Inspite of facing many controversies, Vijay made it for Pongal. Kaavalan at any cost must be a hit as Vijay is seeing low in his career from the past two years. Directed by Siddique the film is the remake of Bodyguard (Malayalam film).
Well, coming to the story, Bhoominathan (Vijay), happy-go-lucky youngster joins as a body guard of Muthuramalingam (Rajkiran) on his father's ('Nizhalgal' Ravi) request. Muthuramalingam (Rajkiran) is an affluent landlord and good person, who stays in a village near Madurai. Bhoominathan will be appointed as a body guard to his daughter Meera (Asin). He will be escorting her to the college. But Meera feels it as a headache and starts teasing him, inspite of her friend Madhu's (Mitra Kurian) warning. Meera starts making calls to him, as a girl who is in love with him and makes fun. But finally she ends up in loving Bhoominathan seriously. One fine day Muthuramalingam comes to know about their love and things get serious. What follows is the rest of the story?
Performances:
Vijay as Bhoominathan has saved the film to the maximum. His performance is quite good especially as a body guard.
Asin is well set for the character of Meera. But combination of Vijay and Asin lacks chemistry.
Vadivelu as Amavasai gave the required comedy in frequent intervals, though seen in few scenes he brought the house down.
Other casts Rajkiran, Roja, Mitra Kurian, KK, M S Bhaskar and 'Pithamagan' Mahadevan have done their respective roles well.
On a whole Vijay has been the show stealer.
Director Siddique is okay and carried the same feel of the original version.
Vidyasagar's music is good especially in couple of songs and back ground score.
Cinematography by Ekambaram is good and editing by Gowri Shankar is good and are plus to the film.
Fantastic come back of Vijay