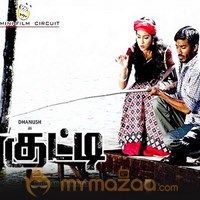 Kutty Review
by

MyMazaa.com
---
'Kutty' starring Dhanush, Shriya, Sameer Dattani and Meghna Naidu is yet another remake of a Telugu film. Going with remake traditions the original music director is also retained for 'Kutty'. Devi Sri Prasad who scored music for the original Telugu version as usual retained some of the tunes for Tamil as well. 'Kutty' is talked to be a college campus romance but the music doesn't give you the feeling. A just pass album from Devi Sri Prasad.
1. Life-a Jaali Than
Singers: Devi Sri Prasad, Raina
Lyricist: Vivega
This song is sung by Devi Sri Prasad and Raina. It is a peppy number but sounds very un-original. You tend to visualize Prabhu Deva unless you know Dhanush is the hero. Looking not so original "Life-a Jaali Than" song reminds of Take it "Oorvasi" from 'Kadhalan' and "Kadhal Yaanai" from 'Anniyan' to a large extent in terms of lyric and tune. 'You Rock My World' of Aarya was great.
2. Feel My Love
Singer: Kay Kay
Lyricist: Vivega
It is cool to listen to Kay Kay after a long time. Kay Kay like Hariharan has the flair of bringing in freshness to any song even if conditions are not catalysts. The Feel My Love refrain could well be the new catch rhythm. Vivega also has come out well complimenting the music director.
3. Nee Kadhalikkum Ponnu
Singer: Mukesh
Lyricist: Selvaraghavan
Another foot tapping song of the album. The singer is Mukesh. Lyric you know who… it is Selvaraghavan and he has brought in the right words to feature aspects of love. Loud but.
4. Yaro En Nenjai
Singers: Sagar, Sumangali
Lyricist: Thamarai
This one is from the Telugu original and also the only song which comes close to melody largely because of the words of Thamarai. . Sung by Sagar and Sumangali "Yaro En Nenjai" is a stand out song in the album. This also reminds of "Un Paarvayil Paithiyamanen" from 'Unakkum Enakkum'. It will be interesting for all listeners to ponder why this music director doesn't believe in slow pleasing to the ear piece of music, even for softly worded lyrical ballads.
5. Feel My Love 1
Singer: Kay Kay
Lyricist: Vivega
This pathos version is very listenable than the fast version. Kay Kay is amazing in this song. The interlude strings are refreshing. By far the best number in 'Kutty'. Must have a lot of takers. Worth for repeat listening.
6. Kannu Rendum
Singers: Priya Hemesh, Mukesh
Lyricist: Vivega
How is it possible for a Devi Prasad album not having a 'kuthu' song in it? "Kannu Rendum" Is a typical hammering kuthu of Prasad kind. Sung by Priya Hemesh and words by Vivega this reminds of the classic 'Pattanamthan Pogalamadi…. at some places. A OK number.