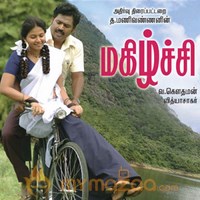 Magizhchi Review
by

MyMazaa.com
---
Adapting novels into movies has been quite a frequent (not as much as we would like) practice in the film industry. But, the most common complaint that we come across with all such efforts is that the soul of the book was ultimately lost while translating it onto screen. But, Magizhchi is one effort that cannot be accused of Magizhchi tampering with the original feel of the book that it has adapted. A screen version of acclaimed author Neelapathmanabhan's Thalaimuraikal, Magizhchi is set in the rural folds of Tamil Nadu and tells the story of a family, focusing primarily on the brother-sister relationship while also spreading the attention of the viewer onto a variety of socio-economic issues of villages.
Two siblings; the sister being the elder, share an almost ideal relationship. Each other's happiness means the world to the other and it is shown in many instances in the film that either of them would go to any lengths to keep the other happy. They grow up and soon the sister is wedded off with great hopes of having a good and happy life. But, what happens is quite on the contrary. She is subject to intense domestic drudgery; both physical and mental torture. At first we don't understand the reason behind her husband's behavior towards her; is it sheer male chauvinism or is there a more serious rift between them. That is what her brother tries to find out. Not much to our surprise; he finds out that his brother-in-law is being cruel and unreasonable towards his sister and there is something that he wants to be hidden from the society on the whole. But, the brother is not ready to sit around and watch his sister getting tortured and decides to put an end to this marriage which is causing only grief to everyone. But, his brother-n-law is not ready to give in all that easily and the ugly caste issue threatens to raise its head when a solution to all this seems in sight.
The first thing that we notice about Magizhchi is the simplicity and natural charm that it possesses. There has been absolutely no attempt to try and infuse anything artificial or extraneous into the script with the excuse of making it more 'cinema friendly'. It is an honest adaptation of the book. It is definitely a throwback to the 80s kind of family drama with overbearing husbands and brother-sister sentiment all playing a part. But, if willing with an open mind; contemporary appeal can be found in this movie. It shows that male dominance and domestic violence are still a part of the social fabric; especially in rural India. The movie also highlights the economic backwardness of the villages; especially in portions where the bride's father has to sell the land that he has tilled for years to get his daughter married. His grief and helplessness have been well portrayed. Also the fact that caste is still a major issue in the minds of the rural population is depicted in the movie; especially during the final portions. One of the portions of the movie that attracts most due to its novel and extremely simple narrative styles is the one where the grandmother is narrating an old fable to her grandchildren. The story is shown to us on screen in the form of sketches by Trotsky Marudhu. It is quite interesting to watch.
The director has managed to extract good performances out of almost everybody in the cast. The experienced hands like Prakash Raj and Sukumari walk through their roles with consummate ease and expertise. The actress who really impresses with her performance is Anjali. She is almost perfect as the young , a bit mischievous, village girl. Karthika, as the elder sister, is also very good, especially in portions where she gets tortured by her husband. Seeman delivers a dignified and typically sober performance while Sampath Raj makes an impact as the man who is trying to assert himself on his wife, but is in fact afraid deep inside that a truth about him might surface if he gives her too much freedom. The director Gauthaman, after focusing on everyone, seems to have overlooked himself just a little bit. One gets the feeling that he could have given himself a bit more attention.
Technically, Magizhchi is not a movie that demands much. But, the locations, bordering on Theni are a treat to watch and have been captured well on camera. Music by Vidhyasagar reiterates the fact that he is rightfully called melody king.
Magizhchi is a well made film about family relationships and social issues. However, it has its innate limitations in terms of being an entertainer. To the team's credit, the movie has never aspired to be an entertainer that is out of the scope, the story permits. If you are the sentimental type whose idea of a village based film is not just 'sickles and sevals', then Magizhchi will make you happy.