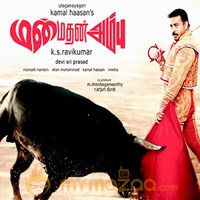 Manmadhan Ambu Movie Reviews
Manmadhan Ambu Review
by

MyMazaa.com
---
First of all, a big round of applause to Ulaganayagan Kamal & director K.S Ravikumar for giving us such a decent and romantic comedy film.As most of their films together were laugh riots. You can expect the same treat in 'Man Madhan Ambu' too.
The story of 'Manmadhan Ambu' is this. Madhana Gopal (Madhavan) is deeply in love with Ambujam (Trisha) but their love breaks over a crazy incident and they separate. They don't see each other for a few years. But Madhan's is still crazy about her and is curious to trace her and begin a new life wit her. But Madhan is not sure whether even Ambu is still craving for him. At the insistence of his good friend (Ramesh Arvind), Madhan hires a private detective, a former Commando Major R. Mannar (Kamal Haasan) to track her and find out if she too is still truly in love with him. Finally all ends well
So is the title MANnarMADHAN AMBUjam. Later Major R. Mannar traces Ambujam who is an actress now and follows her up as if on an assignment. They both get acquainted on a luxury cruise liner during a film shooting and he has seven days to complete the task. Meanwhile the detective's love Deepa (Sangeetha) who is also a friend of Ambujam
mistakes his trail and suspects that he is two-timing her. When things go off Madhan enters and explains every thing. Then they all live happily ever after.
The story is nothing new. But the treatment the director K.S Ravikumar & Kamal has given to the script and the way the directory Ravikumar narrated the story win all accolades.
Ulaganayagan Kamal has the habit of doing a light vein comedy after doing a much demanding film to relax. 'Man madhan Ambu' is an unwinding film for Kamal after the heavy dose 'Dasavatharam'. In 'Man madhan Ambu' he takes comedy avathar and gives best as usual.
One important trend started by Kamal with 'Manmadhan Ambu' is that all the actors did perfect rehearsals before the shoot began and got familiarized with their roles. This has ensured the genuineness to the performances. Kudos to Kamal!
Though 'Manmadhan Ambu' is a comedy it has its action moments for Kamal. Stunt Master Ramesh has choreographed some entertaining action sequences using experts like Hugo Brallier from France and William Wong from Malaysia.
Most part of this urban hip comedy is taken on a luxury ship floating in the Mediterranean Sea and in out of the ordinary locations in places like Rome, Venice, Paris and Barcelona.
Madhavan co-stars with Kamal after 'Anbe Sivam'. He proves that he is the best student of Kamal.
Trisha comes as Actress. Trisha and Sangeetha are working with KS Ravikumar and Kamal for the first time. Trisha who missed 'Dasavatharam' with Kamal gets her first film with him and delivers cute performance.
Ramesh Arvind, Manju Pillai, Kavita Radheshyam and Usha Uthup are in good supporting roles. If that is not enough Suriya and 'Kalavani' Oviya are doing a guest apperance.
The screenplay and dialogues of the film is written by Kamal Haasan and his favourite Crazy Mohan, 'Manmadhan Ambu' is going to be the top on thier combo list. Ulaganayagan Kamal, the writer - great dialogs, hilarious witty, keeps you in splits, one man who proves he can write serious stuff like Thevar Magan to a semi-fantasy in Dasavatharam to a great comic one in Manmadhan Ambu.
A new cameraman Manush Nandan is being introduced. He has given the best like his master Ravi K Chandran.
Music by Devi Sri Prasad is another fine element in the film. 'Man Madhan Ambu' has seven tracks. Kamal Haasan has written five of the six songs and more he has sung three of them. Trisha for the first time has dubbed for her character and also singsongs with Kamal for a number in Tamil. Andrea has performed a rock n roll with elegance. songs are very watchable on screen, match the mood and genre.
There is one song 'Oyyale' which is a situation song in which Suriya appears with Trisha. Trisha is an actress and this song is a shooting of her film.
A great family entertainer and thorough fare for some real good laugh and fun, 'Manmadhan Ambu' could be a wise choice to spend some quality time. For films like 'Manmadhan Ambu' is not a regular happening in Tamil cinema.