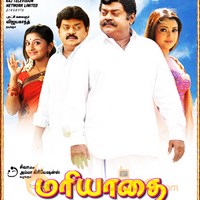 Mariyadhai Review
by

MyMazaa.com
---
What happens when people of contrasting style come together for a film? Vikraman, the director known for his melodrama and Vijayakanth, who made a name for himself for his action-packed ventures team up to render an emotional drama loaded with a strong message. It's more a 'Vikraman movie' with his typical sentimental dialogues and feel-good characters.
Seemingly an extension of Vikraman - Vijayakanth's earlier outing 'Vanathaipolae', 'Mariyadhai' too has 'Captain' playing a dual role – that of a father and son. As expected the senior shares more screen space and leaves a strong impression.
Vikraman has not deviated a bit from his formula films of the past. The story is as old as that of 'Adam and Eve'. Vikraman has woven the script around a happy and a most respected family in the village, which counters troubles. Eventually the male protagonist overcomes all challenges and rise up in life. It is all well that ends well.
At a time when the grammar of filmmaking has touched new heights and technology has overtaken all departments of the industry, Vikraman still firmly believes that the best way to attract womenfolk to theatres is by churning out a cocktail of emotions and sentiments. 'Mariyadhai', which has all essential aspects of a melodrama, sadly looks a bit outdated and Vikraman ends up standing in an alien land. It is artificial and clichéd right from the first frame.
The story unfolds in a small village near Pollachi. Annamalai (senior Vijayakanth) leads a contended life with his wife Alamelu (Ambika), his daughter Sumathy (Ammu) and his son Pichai (junior Vijayakanth). A caring a loving father, he even allows his son to change his name from Pichai to Raja, when he is made fun of by his friends when he was very young.
A respectable man in the village for his philanthropic activities, Annamalai gives enough liberties and freedom to his son Raja, who emerges out as an agriculture graduate. All troubles begin when Raja loses money by cultivating dates in the barren land owned by his father. Meanwhile an industrialist eyes the land for setting up chemical factory which is resisted by bother father and son. But Raja comes across Radha (Meena), a music teacher and he falls for her immediately. Raja's wedding is arranged with Radha by elders of both the families.
Couple of days before their wedding after Raja gives up his property to Radha only to bail her out of trouble little realizing that it was a conspiracy hatched by Radha to take away his land. Their wedding gets stopped. Raja vows to get back the land. Enters Chandra (Meera Jasmine) in Raja's life. She comes to know of his bad past and vows to change his heart and marry him. Eventually it's how Raja comes up in his life and marry Chandra.
Vikraman can be appreciated has stressed the need for alternate farming in rural Tamil Nadu which is facing water shortage and also there are enough barren lands. Unfortunately the pace in which the movie progresses and outdated characters in the movie are its major eyesore.
Vijayakanth hogs the limelight as father and a lovable son. It's a meaty role for Ambika after she chose to make a comeback recently. Meena looks totally alien in a negative role, while Ramesh Kanna tries to tickle the funny bone in vain. Sampath has been wasted in the role of villain. Meera Jasmine's dignified portrayal and natural expressions impresses.
Vikaraman has brought outs S.A Rajkumar from 'Nakka Mukka' man Vijay Anthony. Half-a-dozen 'Vikraman type' melody finds it place in the movie with the exception being the remix of "Idhayakani" song (Inbamae).
Produced by T Siva of Amma Creations and presented by Raj Television network, 'Mariyadhai' is for ardent Vijayakanth fans.