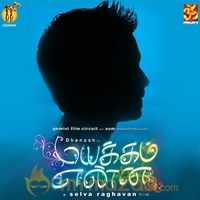 Mayakkam Enna Movie Reviews
Mayakkam Enna Review
by

MyMazaa.com
---
Story
Karthik Subramaniam (Dhanush), a freelance photographer doing portfolios, weddings and other functions and aspires to become a wildlife photographer and work as a assistant to Madhesh Krishnaswamy (Ravi Prasad), a world renowned wildlife photographer. Karthik lives life to the fullest in his own wayby hanging out with his friends. In this regard, his close buddy Sundar (Sundar) introduces his girlfriend Yamini (Richa) to Karthik. Though initially the duo fights with each other later on Yamini gets attracted to Karthik. The story goes with twists and twirls from there on between these three which has to be watched on the screens.
Performances
Dhanush has yet again proved that he can deliver his best and with ease in the emotional scenes apart from the regular ones. His expressions, body language in distinct roles as an aspiring teenager to the cheated photographer to an insecure alcoholic husband and lastly as a mature man is convincing and realistic. The National award winning actor proves that he alone has the capability of pulling the crowds to theaters.
Richa Gangopadhyay makes an impressive debut with this meaty role. The actress is pretty and has emoted well especially in the difficult climax scenes. Deepa Venkat's dubbing suited well.
Sundar in Hero's friend characterization is perfect, Ravi Prasad is convincing and rest of the actors is adequate.
Technical Analysis
Ramji's cinematography is on top notch and is one of the assets of Mayakkam Enna. It is outstanding and lends natural look to the film. GV Prakash's music is ear pleasing with good song placement and the background score has elevated the scenes by highlighting the characters. Kola Bhaskar's editing could have been better. Selva's dialogues are realistic and sensible and the direction is good.
Analysis
Selvaraghavan like his earlier films chooses a fresh, unique and distinct concept with Mayakkam Enna too. With relationships as a central point, Selva narrated a simple story by embellishing it with the right mix of commercial elements like songs, dances, comedy and emotional scenes. However, Mayakkam Enna gets connected to few sections of the audiences with its different climax. While the first half of the film is simple and lively, the second half is a bit slow and is an emotional galore.
Final Verdict
An experimental subject narrated in a commercial format. Watch Mayakkam Enna for unique taking and wonderful lead pair performances