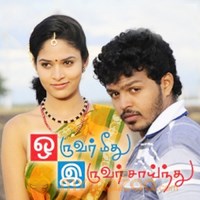 Oruvar Medu Eruvar Saindhu Movie Reviews
Oruvar Medu Eruvar Saindhu Review
by

MyMazaa.com
---
Two childhood friends make a promise that they will marry the same person. To make their dreams come true, they will do all that is in their power.
Critic's Review
Each person has an idea of what or how their future partner needs to be, and there are also chances that two persons may look for the same qualities. But in Oruvar Medu Eruvar Saindhu, Savitha (Swathi) and Kavitha ( Saniya Tara) make a promise as children that they will marry the same person. Unfortunately, they don't grow wiser with age to decide otherwise.
The movie starts off with Ganeshan (Lagubaran) in Palani. It's here that he bumps into a pilgrim, played by Bhagyaraj. Ganeshan tells him about his life before he decided to settle in the hills. He starts off with his two of love stories that are carefully placed before and after the interval. It traces his days with Savitha before she puts down her 'condition' regarding their marriage. He then moves to Hyderabad (in the second half), where he meets Kavitha and story proceeds like a formula for love, as in the first half, with the regulation songs and fights.
The script is dated, but works as the perfect reason to cast Visu and Bhagyaraj and watch them do what they do best. They come up one wisecrack after another, which provides for some entertainment during their extended guest roles. Lagubaran comes out as a half-baked Vijay, with half the charm. Swathi and Saniya act just as script demands them to, even unaware of the fact that bigamy is a crime according to law.
The movie is far from promising and every song, comedy track and fight just gives us briefs intervals to step out of the hall or take a nap in the airconditioned theatre.