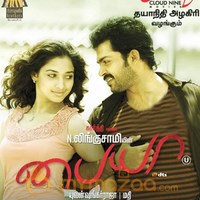 Paiyaa Review
by

MyMazaa.com
---
As is the norm with so-called youthful movies, "Paiyaa" hero Shiva, played by Karthi who is seen for the first time on screen with a costume that is not dirty, is jobless but couldn't care less. He is full of fun and enjoys life. Shiva meets a beautiful girl Charulatha (Tamannaah) and instantly falls for her. Shiva's successive coincidental meetings with the girl increases his passion for her.
Shiva finds out that Charulatha's life is in danger. He pledges to save her from the clutches of the goons hired by her stepmother.
The twist in the tale is that Shiva too is in danger. A Mumbai gang guns for him on account of previous enmity. Shiva, thanks to some tiring stunt sequences, finally manages to save the girl and himself.
For most part for the film, the script travels in cars and this is the only difference between "Paiyaa" and other such movies. Otherwise it is predictable and hardly exciting. The hero saving a girl from the clutches of a villain gang with his muscle power is nothing new to Tamil cinema. In fact, we are witnessing such stories almost every week.
It is quite sad that a director like Linguswamy with proven record of making interesting commercial movies like "Run" and "Sandakozhi" has made such a damp squib.
The interesting aspect in the whole film is that Siva does not express his love to his girl believing that true love would express itself. Ironically, the girl doesn't understand his feeling throughout the movie.
Since the entire problem is solved with the power of muscles, there is no work left for the script writer indeed. Tamaanaah's generous skin show, especially in the rain song, and the joyful attitude of Shiva are there for the director to drag the film for 150 minutes.
In addition to this there is Yuvan's music and Madhi's excellent camera work that help the proceedings.
In his modern avatar Karthi looks smart and charming, but he does not get any scope to act and hence there is not much to write about his acting.
Tamannaah is given little scope to display her acting credentials. Linguswamy has wasted Milind Soman.
The highlights of the film are music, cinematography, and Antony's editing.
"Paiyaa" is a disappointing show, as Linguswamy has restored to cliched script rather than providing something new. The movie looks sleek, thanks to the high technical values but fares poor in substance with insipid story and script.