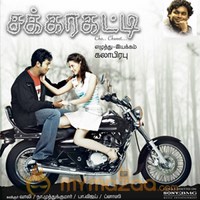 Sakkarakatti Movie Reviews
Sakkarakatti Review
by

MyMazaa.com
---
Shantanoo Bagyaraj's debut film 'Sakarakatti' comes across as a lackluster film with a screenplay that fails to impress right through. Though the young actor seems bubbly, his efforts have been wasted with contrived dialogues and clichéd sequences.
A. R. Rahman's brilliance is in abundance both with the songs and the background score, but debutant director Kalaprabhu has miserably failed to match the refreshing standards set by the talented musician. Visualization of the songs has been worked out well but then does not go with the mood of the film. Art direction in the song sequences has to be lauded. Recreation of the Van Helsing set and certain other similar endeavors have come out well. Computer Generated Imagery that features in the song sequences has come good. Soundarya Rajinikanth's Ocher Studios' involvement in the film is commendable. There are no villains in the film and the director has struggled to keep the conflict element going.
There is however one song 'Taxi€¦.Taxi' that stands out. Youthful vigor, catchy tunes and a mood that personifies joy has come out brilliantly. Shantanoo is at ease in the song with some good dancing complimenting the rest of the dancers that include hip-swaying damsels.
Dimple-cheeked Shantanoo seems to be inspired tremendously by Shahrukh Khan as many of his expressions especially in the beginning of the film reveal. Unfortunately for the debutant whose father is considered one the greatest screenwriters in South Indian cinema, his introductory film hovers around aimlessly without any semblance of a screenplay.
Ishita proves to be a debutante who has nothing much to do except to burst out emotionally and of course smile sweetly at the protagonist. Audiences would probably remember her for mouthing the words 'cho chweet' which she does a number of times. Vedhika on the other hand, has handled herself in a more professional manner as the sometimes jealous no-way-out one-side lover.
Yuvaraj (Shantanoo) is a lad who grows up in the company of four friends with a penchant for mischief and an adventurous attitude. Just before he is to join college, he sees a girl named Deepali (Ishita) stranded on the road thanks to a malfunctioning car and a helpless driver. Yuvaraj finds himself in awe of her beauty and one of the most clichéd incidents happens. She walks into the same classroom as our hero is in and there is love in the air.
In comes another girl Reema (Vedhika) who happens to be Yuvaraj's cousin (aunt's daughter). She too joins the same college. Reema falls for her cousin and continues to be helplessly in love even after she gets to know about Yuvaraj's and Deeplai's love affair.
Yet another clichéd incident happens. Reema gives a red rose to our hero which is seen by Deepali. The girl runs away with a broken heart. The hero explains things and the affair brightens up once again. After a while Reema slips, thanks to a door mat. Yuvaraj holds her in a bid to break her fall. This again is seen by Deepali and another emotional outburst happens. The love affair is plagued by an assuming Deepali and a group of friends who want to bring the young lovers together.
Yuvaraj caught between the assuming Deepali and his true feeling of love decides to end the relationship which he voices to his heart's desire. Confusion reigns until his friends conjure up an idea which would necessitate all the three people involved to come together in a 'birthday party'. One more twist happens which produces some emotional dialogues. Do the lovers come together again or does Reema's pure-love succeed?
On the whole, the film rubs on as an inexperienced attempt. Shantanoo however if directed well could go places.