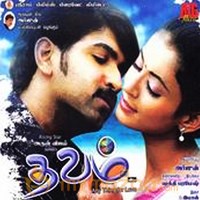 Thavam Review
by

MyMazaa.com
---
Action King Arjun as a producer has chosen to render a romantic entertainer. A remake of Telugu movie 'Itlu Saravani Subramani', the movie stars Arun Vijay in the pivotal role.
Debutant director Sakthi Paramesh has chosen to do a honest remake of the original.
Desperate of his good looks, success has been eluding Arun Vijay. But, 'Thavam' is sure to take Arun Vijay to heights for he has enough opportunity to showcase his skills. Good in stunt sequences, Arun Vijay shakes his legs in flashy costumes for peppy numbers. Debutant Arpitha looks pretty and natural. Another newcomer Vandana, plays the glamour doll in the film. Arjun makes a cameo appearance in the climax. Vadivelu and 'Venniradai' Murthy tried their bit best to evoke humour.
The movie begins with Sumathi (Arpitha) and Subramaniam (Arun Vijay), strangers to one another, meet at a suicide point in Chennai. They realise that their goal is the same, that is Suicide! Both had choose to end their lives and duly writes suicide notes.
Sumathy's reason for taking the extreme step is her nagging relatives, who are also her guardians. They are after her ancestral money.
Subramaniam is cheated by a friend who promises a job for him in Dubai after taking Rs five lakh from him. Both consumes sleeping pills in a bid to end their lives in Subramaniam's room. However, they are rescued by the house-owner Mani (Janakaraj). Life takes a turn and Subramaniam lands a good job while Sumathy's relatives take her home.
Subramaniam marriage is settled with a girl of his mother's choice and Sumathy's marriage is fixed with her maternal uncle. Both flee the respective marriage halls independently. How they reunite forms the crux. D Imman has come up with five songs.
Thavam is a breezy love story for youngsters.