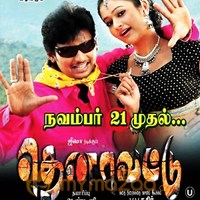 Thenavettu Review
by

MyMazaa.com
---
Thenavattu - A Commercial Cocktail
Jeeva was on a penance longing for a commercial hit. His recent films featured him in off-beat roles and the actors fans were eager to see their favorite hero donning a macho-man challenging baddies and bashing the goons.
Thenavattu has come as a blessing in disguise for all Jeeva fans as the actor sings, romances, utters punch dialogues, thrashes the villains and evokes sentiment on screen. All credit to debutant V V Kathir, who seems to be well versed with the art of making a Pakka commercial from his mentor Perarasu, a trendsetter with his commercial smash hits.
Kathir has rendered a movie that is one-dimensional with characters uttering racy dialogues. The actor has attempted to recreate the Vijay magic, with right instructions from the director.
Jeeva has played his part well. He has portrayed it with dignity and oozes energy. He excels in stunt sequences especially towards the climax. He seems to have matured quite well to play a mass hero.
Quite a contrast to his earlier films like Kattradhu Thamizh and Rameswaram, Jeeva comes in flashy and colorful costumes. He dances with joy and seems to have involved himself ardently in the role.
Poonam Bajwa continues from where she left off in Seval. She has played her role with ease and delivers. She is cool and poised on screen. Ravi kale impresses as baddie. His body language deserves appreciation. Ganja Karuppus comedy is not hilarious but good to an extent.
The plot starts off when Kottai (Jeeva) comes from Madurai to Chennai to eke out his livelihood. He works as henchman to Kailasam (Ravi Kale), a dreaded gangster. Kailasams son, a womanizer, is behind Gayathri (Poonam Bajwa). Gayathri, Kottais ladylove, runs for cover. Eventually, Kottai takes on Kailasam to protect Gayathri. Whether he succeeds in his mission forms the crux of the story.
Srikanth Devas music adds pep. The racy tunes coupled with peppy beats makes the spectators tap their foot. Director Kathir didnt experiment much and took the familiar path of commercial entertainer following the footsteps of his guru. Sun pictures has the capacity to foresee a movies success and continues their saga that started off with Kadhalil Vizhundhen.
Thenavattu is sure to make it big among the B and C centre audiences.