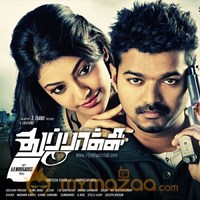 Thuppakki Review
by

MyMazaa.com
---
Story:
Thuppakki starts up with massy entrance by Vijay and a small fight. Jagadeesh [Vijay] is an Army officer, who comes home for a 40 days vacation. After introducing Jagadeesh's family consisting of his parents and two sisters and lady lead Nisha [Kajal Agarwal], here comes seriousness in the story with a bomb blast taken place in Mumbai, Jagadeesh's native place. Jagadeesh finds out the reason for the bomb blast to be Vidyut Jamwal. Meanwhile Jagadeesh happens to fall for Nisha also his parents' choice for him and win her love. Nisha is a boxer cum football player.
Watch Thuppakki Movie to know How Jagadeesh manages to save the people and the country from terrorists? How he gains Nisha's love? forms the rest of the crux of Thuppakki.
Performances:
Vijay excelled with his powerful performance and this time he has given some outstanding entertainment especially with his mannerisms, body language and ofcource the star has also spoke English and Hindi in Thuppakki, which is new to him as well as viewers.
Kajal looks glamorous and did her parts well and a special mention needed for her performance as a boxer.
Vidyut Jamwal looks good and with his physiq is a tough competitor to Vijay on screens. Sathyan has done a decent job but his acting skills are not upto the mark, compared to his previous films. Jayaram act is fun and gets applauds for his comedy.
Technical Analysis:
AR Murugadoss's direction is good and well executed with all the needed ingredients for a commercial film.
Harris Jayraj has already proved his mettle with Thuppakki music album. Coming to background, music composer has given slow tempo in parts, especially pre-climax scene.
Santosh Sivan's cinematography is excellent and the editing by A. Sreekar Prasad is good, as the comedy, performances and one-liners don't make us feel the movie is lag with 2 hrs 45 mins running time.
Analysis:
Thuppakki is Vijay show all the way, only problem is story goes in a predictable mode. First half is entertaining and feast for fans with good comedy, nice dialogues, few properly executed scenes and plotting some important clues for the second half.
As in first half, second part also has some well executed scenes like Dog scene is superb, the kidnap and the fight scene stands out, Kajal proposing Vijay is fun watch because of Vijay's mannerisms, Coffey day scene et al. are engaging. Thuppakki also has excellent one-liners like "1000 pera kolra avangalae uyira kudukka thayaaraa irukumbodhu naama yaen da thayanganum?" are good.
Finally, main drawbacks are a bit delay in climax, lack of mass numbers from Vijay and logics too.