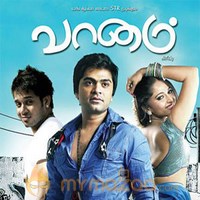 Vaanam Review
by

MyMazaa.com
---
Vaanam Story:
Vaanam features five different stories of five different characters. All five stories run parallely at a time and they meet at a point to find a solution which forms the climax. Cable Raja (Simbu) lives in slums and aspires to live a rich life by marrying a rich girl friend. He fakes a rich girl played by Pooja (Jasmine). A sex worker Saroja (Anushka) elopes from a brothel house and plans to lead her own life. Bharath Chakravarthy (Bharath) aims to become a famous rock star and he starts his journey with his friends to give a live performance. Prakash Raj and his wife Zara (Sonia) gets discriminated for being a Muslim and plans to leave for Dubai to make a living out there. Saranya Ponvannan is desperate to get funds for her son studies and also has some debts to be cleared. Due to various conditions all of them land up in a Hospital. How all these stories mix with each other in the climax makes for an interesting screenplay?
Performances:
Though the film deals about several characters, but all the roles have equal scope for performance.
Cable Raja is surely going to stick in Kollywood memory and would make an impact on the minds of audiences. Simbu is the pillar of the film and he is show stellar undoubtedly. He gave most heart-warming performance in many sequences.
Bharath has a less footage when compared with Simbu, but he pulled of a decent job. Definitely the film would earn him the name that he is a very good artiste.
Anushka titillates as prostitute Saroja and comes across as genuine and lives up to the requirement. She is striking in every frame, and in fact her role is irreplaceable by anyone. Hats off!
Prakash Raj and Sonia did a decent job and He gave a power-packed performance as a righteous Muslim who is troubled by the cop.
Jasmine looks glamorous by acting like a doll and Vega (Bharath's girl friend) is okay.
All other actors have done a great job but lame person of the audience would certainly feel there were too many characters involved however the script emerges winner.
It is a multiple story film where all the stories join the climax. It is really a tough job to bring five different stories into one film that too in a gripping way. Undoubtedly Krish is the hero of Vaanam and he did a splendid job though he is two films old. He connected all the stories in a brilliant manner with awestruck screenplay.
Dialogues are very heart touching and are asset for the film. Hats off to Gnanagiri. S
Yuvan' music is outstanding when added with visuals. All the songs are nicely integrated into story line and Background score is very good and very apt for the movie.
Cinematography by Nirav Shah is of top-notch quality while Editing by Anthony Gonsalves is excellent.
First half of the movie is quite interesting towards the interval while second half raises the pulse rate of the audiences with each passing frame. It is a big experiment to do such a sensible film with commercial actors.
Finally Vaanam has touched every facet of life be it religious conviction or money or relation. Simbu and Anushka should be appreciated for accepting this kind of movies, which doesn't give them any commercial mileage. The actors brought novelty and undoubtedly Vaanam stands as a winner at the box office. Hats off Krish and the entire team of Vaanam!