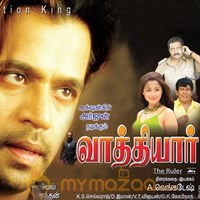 Vathiyar Review
by

MyMazaa.com
---
There is a popular saying in America: €˜Don€™t fix it until it isn€™t broken€™. Arjun seem to set much store by it. He has seen his films work on a certain kind of formula. Now, why should he change it and that too just for the sake of it?
Director Venkatesh is also cast in the same mould. He is the master of masalas. He knows how to cook up a spicy, tangy entertainer. So with Arjun and Venkatesh at the helm, you are quite prepared for what is in store.
Vathiyar is Basha meets Gentleman meets countless vigilante justice movies. The story and treatment are on typical lines. But Arjun shows that he is still a live wire.
Well past his 40s, Arjun still looks fit as a fiddle and comes up with a robust performance. He shows the smoldering fire inside him with certain ease and effect.
Dorai (Arjun) is a do-gooder don. But the entire police force led by ACP Easwara Pandian (Prakash Raj) is after him. But the poor and the needy need him as he is a Good Samaritan running an orphanage with his Man Fridays (Manivannan and Vadivelu).
But Dorai has a problem. His mother doesn€™t approve of his ways. She feels that he is just a loutish goon. There is also Anjali (Mallika Kapoor), a TV journo, who is in love with Dorai because of his dare devil ways.
Dorai has a past too. He was just an honest-to-goodness school teacher, who ends up as the deathly Dorai after a fire ravages a school and kills several children. The incident forces him to take on the system of venal officials and politicos.
Now, Dorai€™s biggest task is to nip a dark and dire politician who wants to bomb the city. The rest, as they, is all cinematic cliches. It is Arjun all the way.
Look well worked out, he gives a typical performance and when he hits the baddies, there is an element of realism in it. His hairdo is different. Mallika Kapoor is bubbly. Prakash Raj is as ever efficient. Vadivelu tries to tickle your funny bone.
Imman€™s music is again on patented pattern. The remixes and rhythm-filled numbers follow a typical idea. The action sequences are heavy, but go in sync with the movie.