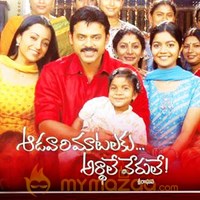 Aadavari Maatalaku Ardhale Verule Movie Reviews
Aadavari Maatalaku Ardhale Verule Review
by

MyMazaa.com
---
Though the number of films by Venkatesh is less when compared to his contemporaries, he bagged more number of hits than others due to careful selection of stories and he always keeps off from a specific image by doing different films. Incidentally, he chooses one action and one family subject alternatively in the process.
The film reminded the audiences of his earlier family subject 'Nuvvu Naaku Nachav'. The film has good entertainment value and is worth watching. The first half is a good time pass, while the second half was full of sentiment and emotions.
Ganesh (Venkatesh) is from a middle-class family. He makes several vain bids to secure a job due to his poor language skills and inadequate educational qualifications. Ganesh has two friends Vasu (Sriram) and another friend (Sunil). His father (Kota Srinivasa Rao) was a teacher. Ganesh falls in love with Keerthi (Trisha) as he loses his heart in first sight. Keerthi is a short-tempered girl. When Ganesh reveals his love to her, she refuses saying that her marriage was fixed with her brother-in-law.
Ganesh returns to India in a depressed mood. Watching his son in depression, his father meets Keerti. The girl abuses him and accidentally slaps both Ganesh and his father. That night, Ganesh's father dies of heart attack. To change Ganesh's mood, Vasu takes him to his home. Incidentally, Keerthi the sister-in-law of Vasu. After several turn of events, Keerthi realises that she too was in love with Ganesh, but it is too late. Ganesh tells her to forget him as it would create problems in a happy family. But Vasu's grandfather notices them and chides Keerthi for spoiling their family prestige. Whether Ganesh left the place? Did the family accept their love? Did Vasu marries Keerthi or not? Answers to all these questions form part of the climax.
Venkatesh really excelled in the character and totally involved in the character. He showed perfect emotions in facial expressions.
Performance of other artistes including Trisha, Viswanath, Sriram and Sunil was also very impressive.
The director devoted the entire first half to portray love and the second half to sentiment and emotions. The snake episode was hilarious while the love episode between 'Colours' Swati and Venkatesh was also hilarious.
Swati excelled in showing innocence. Kota Srinivasa Rao performed in his inimitable style and did total justice to his role.
All the songs are slow and melodious. Camera work by Balamurugan and music by Yuvan Shankar Raja are extraordinary. Above all it is Venkatesh who walked away with honours.
One more good family subject worth watching on the screen.
Cast: Venkatesh, Trisha, Sriram, K Viswanath, Kota Srinivasa Rao, Sunil, Suman Shetty, Vinay Prasad, Jeeva, Prasadbabu, Melkote, Anant, GV, 'Colours' Swati, Meghana Naidu, Rajyalakshmi and others.
Credits: Music ?? Yuvan Shankar Raja, Cinematography ?? Balamurugan, Dialogues ?? Ramesh-Gopi, Producers ?? Sanam Naga Ashokkumar and NV Prasad, Story, screenplay and direction ?? Sri Raghava