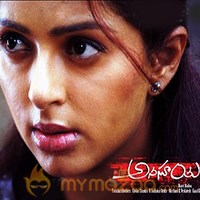 Anasuya Review
by

MyMazaa.com
---
The new cinema in India is the multiplex cinema. A genre by itself, it includes all films with a quirky plot and narration. Usually such films do not boast of big cast and ostentatious spending. Instead, their success depends on the narration and the way the script is handled by the director. Bhoomika€™s film Anasuya too falls into the same category.
It is what can be safely called the multiplex film. It has no big names barring Bhoomika. Then, the story is a thriller. Well, thrillers are what are making the audiences come to the theatres this winter. Last week, it was Charmme in Mantra and now we have Bhoomika in and as Anasuya. For most part, it is a rather interesting film, especially the way Ravi Babu has chosen to narrate it. He resorts to the no-nonsense formula and sticks to it till the very end.
Bhoomika plays an investigative journalist Anasuya in the film and an orphan. No, there is no link there. It is sheer coincidence. But her being an orphan leads to her adopting another orphan who is thrown out by her masters after being exposed by Anasuya. A serious take on child labour woven into the plot. So in comes a little girl into the life of this undercover journalist, who works for NTV. Some brand placing! Initially it€™s a good run for our brave and enthusiastic journo. She even meets Mr Right, played by Abbas, who is a task force police officer.
But then there has to be a twist, which comes when Anasuya€™s uncle Joseph is murdered. From here, Anasuya tries to find out who murdered her uncle and why. There are other murders too, all of which lead her to one conclusion. Being the brave girl, she sets out to find out who the murderer is. Since it is not putting two and two together, she even ends up being framed for a murder herself. So, now will she come out innocent or is she a part of the big game? Watch the movie to find out.
Ravi Babu has gone on record saying he had offered Bhoomika just a guest role, before she offered to play the lead. But after watching Anasuya, you cannot help feeling that the casting of Bhoomika works for the film. Somehow, you want to believe that she is a sincere and hardworking girl and you naturally empathise with her.
As for the rest of the cast, they play their parts well as the supporting cast, be it Ravi Babu, Nikhita or Abbas or the little girl.
Coming to the film, the first half promises much. Though the second half is a bit of a dampener, it is still worth watching as it keeps you with the film. Ravi Babu manages to keep his script tight. There is no unnecessary padding, no detours. He simply sticks to his plot and narrative. But he could have edited a bit off the second half.
Like in all his films, he sticks to a particular colour palette. In this case, he uses a lot of greys. The tones are subdued to heighten the sense of suspense. Thankfully, he does not have many songs and that works for a thriller.
It may not be new. It feels as if you had watched some Hollywood thrillers on similar lines. Still you can venture out to watch it over the weekend. At least, thriller€™s the flavour of the season. So be €˜in€™, by watching it.
Cast: Bhoomika, Abbas, Ravi Babu, Nikhita
CREDITS:
Producer: Flying Frogs and Suresh Productions
Director: Ravi Babu
Release Date: December 21, 2007