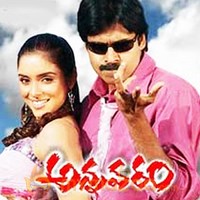 Annavaram Review
by

MyMazaa.com
---
The combination of RB Choudary, Bhimaneni Srinivasa Rao and Pawan Kalyan once again proved a hit with 'Annavaram'. After receiving two or three blows, Pawan Kalyan regains his strength and resurrected once again like a thunder. As was said by the producer in some interviews, the first half was completely devoted to family drama and sentiment, while second half has complete mass elements. Though it is said that Anna (Brother) Varam (Boon), it is not a boon to the sister but his nephew by his uncle. The film is already proved success in Tamil as 'Tirupachi'. Its remake 'Annavaram' also proved a big hit.
Annavaram (Pawan Kalyan) is a village guy and he loves his sister Vara Lakshmi @ Varam (Sandhya) very much. He wants to get his sister married to a boy in a city, who has all facilities and she should be happy. To suit his taste, she gets married to a boy (Siva Balaji), who runs a canteen in a college in Hyderabad.
After their marriage Annavaram comes to the city to leave his Varam and finds that the city is full of goons. He fears threat to his sister, but could not do anything and returns. After a few days, Varam turns pregnant and she and her husband get a threat from one Gutkha Pandu. Later, Annavaram's close friend Narasimha (Venumadhav) gets Visa for Dubai and to see him off Annavaram comes to Hyderabad.
Both of them, along with Varam and her husband go to Golconda, where Narasimha gets killed by Puranapool Ganga (Lal). Varam and her husband reach village to take part in the funeral of Narasimha. Annavaram forces Varam and her husband to stay back in the village till delivery. But he moves out of the village claiming that he got a job. He straight reaches Hyderabad and starts eliminating the goons one after the other.
In the process, he gets the help of one of his friends who was a police officer called Sairam (Brahmaji), who loses his son because of Tappas Balu (Asish Vidyardhi). Annavaram changes his name as Pothu Raju and kills Tappas Balu, Gutkha Pandu, and finally Ganga. By the time Varam returns to her place the city turns clean sans any goon.
Pawan Kalyan gave the best of his performance once again. He regained all his previous mannerisms, good comedy timing and ease in action scenes and dances. Especially it looked he turned a clay in the hands of the director and moulded in the shape the director gave and that has become a major plus point for the film. Asin looked glamorous and little chirpy.
Sandhya performed excellently in sentiment scenes and Sivabalaji did justice to his role. For the first time, Nagababu and Pawan Kalyan worked together in this film. Though there are several comedians in the film they had nothing much to do to give comedy.
Songs are yet another highlight in the film. Ramana Gogula's tunes are melodious and they were choreographed in a very efficient manner. Even the action episodes were also done excellently and their timing is impeccable. Moreover, they don't look cinematic and was perfectly moulded in the screenplay to give a natural look.
Camera work is also good and the use of graphics are worth watching. Raghubabu played the sidekick of the villain and his dialogues are quite hilarious. As a whole, the film is Megaa Super Good, true to the banner's name.
Cast: Pawan Kalyan, Asin, Sandhya, Sivabalaji, Venumadhav, Nagendra Babu, Asish Vidyarthi, Lal, Brahmaji, Tanikella Bharani, LB Sriram, Dharmavarapu Subrahmanyam, Sunil, Ali, Mallikarjuna Rao, Brahmanandam, Ravibabu, MS Narayana, Lakshmipati, Raghubabu, Narsing Yadav, Uttej, CVL Narasimha Rao, GV, Ranganath, Ponnambalam, Sridharbabu, Telangana Sakuntala, Kalpana, Bangalore Padma, Hema, Surekha Vani.
Credits: Story €" Perarasu, Dialogues €" Abburi Ravi, Cinematography €" Sethu Sriram, Music €" Ramana Gogula, Editing €" Gouthamraju, Presents €" RB Choudary, Producer €" NV Prasad, Paras Jain, Screenplay, direction €" Bhimaneni Srinivasa Rao.
Banner: Mega Super Good Films
Released on : December 29, 2006