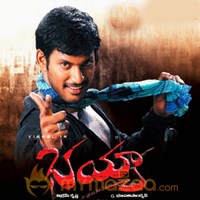 Bhayya Review
by

MyMazaa.com
---
Vishal, the young Tamil hero, is quite popular among the Andhra audiences with his dubbed films like 'Bharani, Pandemkodi and Pogaru' which were also proved hits in Telugu. In fact, he is a Telugu youth, but was brought up in Chennai and made his debut into films through Tamil cinema. His latest film 'Malai Kottai' was also dubbed into Telugu as 'Bhayya'.
Though it was slated for release simultaneously, the Telugu version was delayed by a week due to some technical difficulties. The film was opened with above average talk in Andhra Pradesh. Kudos to director Bhupati Pandyan, who succeeded in harvesting good comedy in the first half and made the film a commercial entertainer.
Jagan (Vishal) is a happy go-lucky youngster who later picks up brawl with a local politician (Kadal Dandapani). A case is registered against him and he is forced to leave his native place Kadapa on a conditional bail, provided he signs the register in Palakonda police station in Kadapa district. At Palakonda, he comes across Malathi (Priyamani) a college girl and falls for her. The inspector at the police station Venkataswamy (Ashish Vidyarti) happens to be his uncle. Kamala (Urvasi) is the lady constable at the station. Venkataswamy and Kamala were ex-lovers. Mallanna (Devaraj), a powerful politico controls the whole town. Along with his brother Sekhar (Ajay), Mallanna infuses terror in the hearts of the local people and virtually controls the town with his men. Jagan ends up getting the wrath of Sekhar when he saves Malathi from a difficult situation. Sequence of events leads Jagan to launch a crusade to bump over both Mallanna and Sekhar. And how he goes about achieving the mission forms the crux.
PERFORMANCE:
Jagan (Vishal): Vishal is in his usual gesture in this film. He excelled in action scenes and gave a stylish performance in fight sequences. He improved his body language than his earlier films and showed good ease in comedy scenes as well. His comedy timing is excellent. Though his character is quite similar to his earlier films like 'Bharani and Pogaru', the director tried to show some change in the movement of the story.
Malathi (Priyamani): Priyamani is also a well known face among the Telugu audiences as she already played in two big hit films like 'Pellaina Kothalo' and 'Yamadonga'. However, her character in this film is quite different and she could be seen in modern outfits. She appeared gorgeous in ultra modern dresses. Surprisingly, all those modern outfits were very romantic but she did not expose her body at all, but at the same time sported a romantic look.
The scenes involving Asish Vidyarthi and Urvasi which describe their romance lead to instant laughter. Both of them did complete justice to their roles. Devaraj gave a brilliant performance as villain with all his experience. However, the director failed to mould Kadal Dandapani's character well and made him a comedy villain.
TECHNICAL:
Action: Kanal Kannan's stunts are a major highlight. Especially the climax flight on a rainy street in Matrix style deserves a special mention.
Music: Manisharma's music is another highlight of the movie. However, all the songs appeared in similar tune but for a couple of songs.
Story, Screenplay and Direction: The story almost is predictable. But still is a good fast moving entertainer. The director ensured that the entire first half is packed with humour and romance while the latter half is filled with stunning action sequences. Handling both with comfort is Vishal. The scripting of screenplay was very planned as the director chose to demarcate the film into two divisions to suit all classes of audiences.
REMARKS :
The major draw back of the film is the nativity. Though some scenes were reshot for the Telugu version, some scenes continue to have Tamil signboards and the hero's buddies and villain's gang and their attires were completely drenched with Tamil scent. Likewise, the tunes were also were full of Tamil music. But for the Tamil nativity, the film is okay to masses and front benchers as it has everything that could attract them like comedy and action scenes.
Cast: Vishaal, Priyamani, Asish Vidyarthi, Devaraj, Ajay, Ponnambalam, 'Kadal' Dandapani, G.M. Kumar, Mayilsamy, Manobala, Azhagu, Jayasurya, Urvasi, Nirosha and others
Credits: Dialogues €" Shashank Vennelakanti, Music €" Manisharma, Lyrics €" Veturi, Vennelakanti and Sahiti, Action €" Kanal Kannan, Cinematography €" Vaithi, Editing €" Sashikumar, Producer €" Vikram Krishna, Story, screenplay and direction - Bhupati Pandyan
Banner: JK Film Corporation
Released on: October 05, 2007.