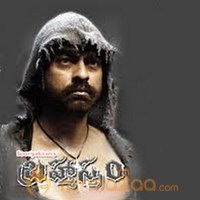 Brahmastram Movie Reviews
Brahmastram Review
by

MyMazaa.com
---
The film on €˜Brahmastram€™, starring Jagapathi Babu and Neha Oberoi in the lead roles is based and inspired from the Jet Li starrer €˜Unleashed€™. The director of the film is Sooriyakiran (of €˜Satyam€™ and €˜Dhana 51€™ fame).
Jagapathi Babu works as a human attack bomb for a powerful mobster Rudra (Ashish Vidyarthi). When Rudra and his henchmen go on their usual collection runs, they bring Bangaram (Jagapathi Babu), who has been trained since he was a child to fight to kill. When Rudra takes off the Mangalasutra tied to his right hand, off goes Bangaram like a raging bull, an unstoppable machine using the only weapon he knows: his body. He also uses him to make money by entering him in an underground fight club where the winner is the one who survives.
But, when a turf war ends up in a bloody carnage, Bangaram escapes and is taken in by a kind family consisting of blind piano tuner Vasudev (Kalabhavan Mani) and his teenage stepdaughter Gayathri (Neha Oberoi). Slowly, they teach Bangaram how to be a real person. How to behave and act in the civil society.
They also teach him the delineation between good and bad. They even give him a new name Guru. They also allow, Bangaram to explore his love of the piano, where a specific tune haunts him, bringing back repressed memories from his long-ago past. In the process, both Guru and Gayathri fall in love. Gayathri is drawn towards Guru, attracted by his innocent and naïve ways of looking at life and things.
Just when, Guru thinks he has escaped from his former life, he is pulled back in. But he is no longer the trained dog Rudra thinks he is. Rudra brainwashes Guru that it is his father who has killed his mother. This infuriates Guru and he goes in search of his father to finish him off. When Guru comes to know that Vasudev is his father, he is ready to kill his father. But, Vasudev reveals to Guru, who the real culprit is and why he had kill his mother in a flashback.
In the end, family reunites and Guru kills Rudra and henchmen in an action-packed climax.
Jagapathi Babu, who earlier was seen playing roles of a family man with responsibilities to carry out and as a nice husband, who tolerates the tantrums of his spouse, has gone in for a total image makeover in the film. His get up looks grotesque, the costumes outlandish and the otherwise Jagapathi Babu looks strange in the film. He has come up with a stunning performance in the film.
Neha Oberoi is acceptable as the heroine in the film, since there is nothing much one can do, when the story revolves around the male protagonist. The comedy of Brahmanandam, M.S.Narayana and Venu Madhav is ordinary.
The performance of Kalabhavan Mani as the blind piano tuner is adequate. Ashish Vidyarthi and Kota Srinivasa Rao have done routine jobs of villains very well.
The music of the film by Vaibhav (Balu, Ananth and Vedant), a trio of music directors is disappointing to say the least.
The direction of Sooriya Kiran is average throughout and he come up with pretty ordinary stuff.