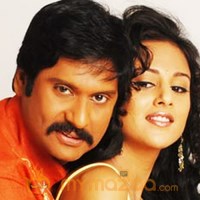 Chandrahaas Movie Reviews
Chandrahaas Review
by

MyMazaa.com
---
Chandrahas - Krishna excelled like a flash
Sivashakti Datta is a well-known lyricist and only a few know that he is the father of music director Keeravani. Sivashakti Datta prepared a good socio-fantasy subject and narrated it to Haranath Policharla, an NRI, who had earlier produced and acted as hero in a film.
In the backdrop of several technicians craving to wield the megaphone, the NRI producer offered him a chance to direct the film as he himself prepared the story and he could visualize all the scenes and present it on the screen as it was in his mind. The story takes a shape as Chandrahaas.
However, the film has nothing much to talk about fantasy but for the use Sivajis episode for a few minutes. There was a lot of graphic work and use of wires only in action scenes.
Sivaji (Haranath) was the heir in Sivajis lineage and was brought up by his mother by telling him about the Chandrahaas, the sword, presented by Tulja Bhavani Mata to his forefather Chatrapati Sivaji. She tells him that the sword was secretly kept at some place and it is very powerful and it should be used judiciously. If the sword goes into the hands of outlaws, the repercussions would be very critical.
Sivajis father Chatrapati (Saratbabu) and his neighbour Gaffar (Hariprasad) are best friends. Likewise, Sivaji likes Firoj (Abbas) son of Gaffar and his sister Haseena very much. Their friendship also grows along with them. Meanwhile, Sohail (Ravi Prakash) comes to Gaffar to marry Haseena.
On the other hand, a group of Muslim terrorists are out to destabilize India in the name of Jihad under the leadership of Liaqat Ali Khan (Puneet Issar). Sivaji, with the help of his assistant Apsara (Astha Singhal) finds Chandrahaas. Liaqats brother Asad (Satya Prakash) attacks Sivaji and gets killed. Because of the sword, Sivaji unintentionally attacks Sohail which spoils the 40-year-long friendship between the two families.
So, Sivajis mother tells him to return the sword to Tulja Bhavani. At this juncture, Sohail kills Gaffar but Haseena notices the murder. Everyone believe that Sivaji killed him. Now, Liaqat kidnaps Apsaras mother for Chandrahaas. Sivaji eliminates him and restores peace. Finally he returns Chandrahaas to Bhavani. In a revenge to his fathers death, Firoj stabs Sivaji, but soon comes to know from Haseena that it was Sohail who killed his father and apologises.
Krishna in Sivajis character is a feast for the eyes. He proved that he is a Super Star even now with his performance. Though he appeared like a flash for a few minutes and a song episode, it is worth watching. His style, his body language and acting talents were in tact even if he is not a regular on the screen.
Astha Singhal is another attraction in the film, Her glamour, sizzling beauty, sensuous exposing during songs were the highlights.
Music by MM Keeravani is okay. Dialogues are good in parts. However, the poor narration, insipid screenplay, old commercial formula taking spoiled the mood of the audiences.
But for Krishnas episode and the glamour of Astha Singhal, the film has nothing to talk about.
Cast: Haranath Policharla, Krishna, Astha Singhal, Saratbabu, Hariprasad, Abbas, Ravi Prakash, Puneet Issar, Brahmanandam, Satya Prakash, Venumadhav, Gundu Hanumantha Rao, Sujatha, Sana, Rajyalakshmi, Abhinaya Sri, and others