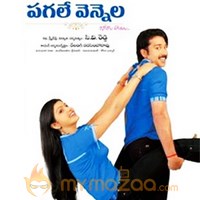 Pagale Vennela Movie Reviews
Pagale Vennela Review
by

MyMazaa.com
---
CV Reddy chose a Hollywood flick 'Just Married' directed by Shawn levy with Ashton Kutzer and Britney Murphy as hero and heroine and made a free make in the name of 'Pagale Vennela'. The film revolves round the situations and the typical problems faced by a youth who dreamt of enjoying his honeymoon trip with his newly-wed wife. In order to give it a nativity colour, the director infused some comedy in the film. For better outcome, he gave the responsibility to direct the comedy track to another director Relangi Narasimha Rao, who is an expert in dealing with comedy.
Balu (Sivabalaji) works with a firm run by Hitler (Brahmanandam). His life ambition is to marry a lovely girl and enjoy his honeymoon abroad. To fulfil his desire, he pools up money in a bank through monthly savings. He looks out for a homely girl and finds Swapna (Mythili) in a temple. Some how, he manages to win her love and marries her by convincing her parents (Sana and Tanikella Bharani). He starts enjoying a happy married life. He believes that Swapna should also have her own individuality and self-respect and gives her due respect.
On the flipside, Hitler treats his wife Sarala (Kovai Sarala) like a slave and never cares to treat her like a friend. Sarala decides to teach him a lesson and with the help of her friends made him to speak at a Mahila Mandali (Women's Club) meeting. Due to his attitude, he speaks something against women and gets a sound thrashing. Despite that he did not mend his ways.
At this juncture, Balu loses his whole savings as the bank in which he saved the money turns bankrupt. He pleads with his boss to advance money for his honeymoon from his salary, but Hitler refuses. Though in depression, Balu feels sorry for his boss Hitler getting bashed by women and suggests him that we should change according to times and not follow the age old principles. On Balu's advice, Hitler decides to change his attitude, which was mistaken by Sarala and admits him to a mental hospital. Balu meets Hitler at the hospital and reveals to Sarala that it is at his instance, Hitler turned a changed man. Sarala takes Balu with him to get back Hitler from the hospital. By that time Sarala's brother Bosubabu (Raghubabu) kidnaps him for his property. But Balu rescues him. Realising how good Balu is, Hitler and Sarala, who have no children decide to adopt Balu as their son. Finally, Balu was able to fulfil his wish to go abroad to spend his honeymoon with the help of Hitler and Sarala. The film ends on a happy note.
Though remotely connected to the story, Relangi Narasimha Rao was able to run the comedy track efficiently. Especially the comedy track between Sunil and Kondavalasa Lakshmana Rao was hilarious, while the comedy-villainy by Raghubabu is just okay. Tanikella Bharani appears on the screen in a couple of scenes and sings two poems in an old stage-play (Pouranika Natakam) style, which was really boring. Sivabalaji did his best as hero as it is his first film as solo hero. Debutant heroine Mythili is also okay and is gorgeous in modern outfits and in a couple of songs. But she has very little scope for performance. But for the comedy track, the film has nothing much to say but the hero going into dreams to shake legs with the heroine. In fact, the screenplay is quite bland and failed to attract either the youth or family audiences. Once again the police were portrayed as jokers by the director. Songs are just okay but their choreography is a let down. The narration of the story is sluggish and quite old fashioned.
Cast: Sivabalaji, Mythili, Brahmanandam, Dharmavarapu Subrahmanyam, Jayaprakash Reddy, Sunil, Raghubabu, Venumadhav, Kondavalasa Lakshmana Rao, Tanikella Bharani, Mallikharjuna Rao, MS Narayana, Kovai Sarala, Sana, Apoorva and others.
Credits: Dialogues €" Marudhuri Raja, Cinematography €" Adusumilli Vijayakumar, Editing €" Kola Bhaskar, Music €" Vandemataram Srinivas, Action €" Nandu, Thrills €" Ravikanth, Comedy scenes direction €" Relangi Narasimha Rao, Story, screenplay, direction and producer €" CV Reddy.
Banner : CV Movies Pvt Ltd
Released on : January 26, 2007