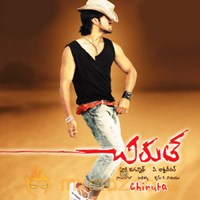 Chirutha Review
by

MyMazaa.com
---
Though the sons of heroes and producers making their entry into the films is not new to the Telugu film industry, the debut appearance of Ram Charan is something different. While Balakrishna, Harikrishna, NT Rama Rao (junior) and for that matter Maheshbabu made their debut appearances as child artistes first and then became heroes. There is another category like Nagarjuna and Venkatesh who became heroes straight. But for any of these heroes there was no such hype in the film industry.
However, the entry of Ram Charan, son of the the King of Telugu Cinema, Padma Bhushan, Mega Star, Dr Chiranjeevi, made a lot of difference among all. Right from the launch of the film, there was lot of hype and expectations on Ram Charan's film.
Moreover, his entry is being made through the hands of stalwarts like versatile director Puri Jagannath and Mega Producer Chalasani Aswinidutt on a prestigious banner like Vyjayanti Movies. With his last film 'Pokiri', which rewrote the Box Office records of the 75-year-old Telugu film industry's history, Puri Jagannath owned a great responsibility to continue the stature in his next film. At the same time, Vyjayanti Movies banner had no notable hit to its credit in the recent past and is craving for a big hit.
Keeping all these factors in mind and keeping the image of Mega Brothers in Telugu film industry, each and every craft of the film industry worked with dedication and gave their best, which ultimately resulted in a tremendous platform for the Little Mega Power Star and the film received fantastic applause right from the front benchers to the balcony class.
Charan (Ram Charan) is the son of an auto driver, who gets killed by Mattanna (Asish Vidyarthi). Charan's mother also gets stabbed him. To save his mother's life, Charan goes to jail as a proxy in a murder case. On his return from jail, Charan learns that his mother is dead. Accidentally, Charan meets Sanjana (Neha Sharma), the daughter of a millionaire Kartikeya (Prakashraj). Later, Charan gets a job in Bangkok as a travel guide and meets Sanjana there again. In Bangkok, Charan teaches Bittu a lesson when the latter tries to tease Sanjana. Again Bittu attacks them when they were alone. In a bid to escape, Sanjana and Charan gets caught in an island and love blossoms between them. Charan reveals that he came to Bangkok not exclusively for a job but in search of Mattanna to take revenge. On information that Sanjana was missing, Kartikeya reaches Bangkok and finds her with Charan. As Sanjana leaves Kartikeya because her love towards Charan, Kartikeya tells him that he would get back his mother if he is ready to leave Sanjana. Charan who loves his mother most agrees to the proposal. Did Charan meet his mother? How Charan took revenge against Mattanna? What happened to the love between Charan and Sanjana? Answers to all these questions form part of the climax.
Performance:
Charan (Ram Charan): This debutant hero knows pretty well that he has the legacy of his father and there were heavy expectations on his film both in the audiences and in the industry. He did a lot of homework and worked very hard. His body language, histrionics made the audiences to feel awe. Especially none would believe that he is a debutant and facing the camera for the first time. He showed perfect ease in dances, action scenes and also in sentiment scenes. He competed with his father and brother-in-law (Allu Arjun) in dances. Even in action scenes, his toned body was fantastically captured by the camera and presented on the screen in a fitting way.
Sanjana (Neha Sharma): The heroine is basically a model from Mumbai. She filled the glamour slot well and also put up good performance as a rich girl, who always thinks that she could get anything with money. The dialogues that were dubbed to her voice were typical. It has a mix of Telugu with American slang, which is different from the routine Sunita voice.
Kartikeyan (Prakash Raj): Another major and important character in the film is that of Prakash Raj. As usual he tried his best to dominate the scene with his impeccable performance. Though the audiences notice some negative shades in his character in the beginning, by the time of climax, the negative shade vanishes in thin air and a character actor enters the place. He played the perfect father who is a millionaire with a lonely daughter.
Mattanna (Asish Vidyarthi): Though he is the villain of the film, the director toned down this role in a bid to highlight the hero. In fact, this kind of villainy could be noticed in films that came during 70s and 80s.
MS Narayana as a tourist operator, Dharmavarapu Subrahmanyam as a manager, Ali as Machmi (a Mada kind of character), Brahmanandam as Krish (a boat operator), Uttej, Babloo, Venumadhav did justice to their roles.
Technical:
Cinematography: Shyam K Naidu, who is one of the best photographers of the Telugu film industry captured the beauty of Bangkok city and the other scenic marvels of the beach in an extraordinary way. He gave the best of himself from his experience in using different angles in dance sequences and in action scenes. The camera work in songs is worth watching and made them visual treats.
Editing: MR Varma did a good job as the editor of the movie. He showed good expertise in editing the film and made it as a visual treat.
Music: Manisharma's music is quite melodious. The audio has become very popular even before the release of the film. Keeping Mega Star's image in general and the expectations of the fans in particular, he scored fantastic tunes to the songs giving ample scope for the hero to show fantastic dance movements. The songs are not only good to listen but were also made visual treats.
Story, screenplay, dialogues and direction: Director Puri Jagannath has become an all-time favourite for everyone with 'Pokiri' of Maheshbabu rewriting the Box Office records of 75-year-old Telugu film industry. He chose a different route to introduce Ram Charan as hero. In fact, the current generation youth don't know the kind of fights with which Chiranjeevi has become popular, with karate stills and kung-fu fights. It would definitely appear novel for the youth. However, Puri took precautions in choreographing the songs in a most modern way.
Production: The production values of Vyjayanti Movies are superb. It appears Aswanidutt spent the money lavishly to give a rich look to the film. Especially, the boat chases, helicopter sorties, chartered flights might have raised the production costs but the film got a rich look.
REMARKS:
As a whole the first half of the film is youthful, while the second half is full of revenge drama. The climax fight is worth watching and reminds the old Chiranjeevi films. Undoubtedly, Puri Jagannath made a perfect platform for Ram Charan.
Cast: Ram Charan, Neha Sharma, Prakash Raj, Asish Vidyarthi, Surya, Sayaji Shinde, Tanikella Bharani, GV, MS Narayana, Dharmavarapu Subrahmanyam, Brahmanandam, Ali, Venumadhav, Srinivasa Reddy, Uttej, Babloo, Satyam Rajesh, Narsing Yadav, Master Akash and others.
Credits: Music €" Manisharma, Action €" Vijayan, Camera €" Shyam K Naidu, Editing €" MR Varma, Presenter €" Chalasani Dharmaraju, Producer €" C Aswanidutt, Story, screenplay, dialogues and direction €" Puri Jagannath.