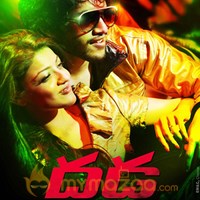 Dhada Review
by

MyMazaa.com
---
Story
Vishwa (Naga Chaitanya) is a Telugu guy who completes his graduation and enjoys his life in Newyork along with his brother Rajiv (Sri Ram) and sister-in-law (Samiksha). Vishwa later falls in love with Rhea (Kajal Agarwal), daughter of multimillionaire (Mukesh Rishi). Rhea has everything except love from his father and so spends most of her time lonely watching old videos of her dead mother (Satya Krishna). In no time Rhea falls for Vishwa too, who shows love and care on her. On the other hand, Vishwa saves 100 young women from a trafficking business deal set for sexual exploitation between Kelly (Kelly Dorji), a Colombian drug lord and a local Don (Rahul Dev) and becomes their target. Meanwhile, Rhea's father arranges her wedding with a top millionaire Amit? What does Vishwa do to win Rhea? How does Vishwa get out of theses circumstances and kill RD and Kelly forms the rest of the story.
Performances
Naga Chaitanya comes up with a mass look in the film. He evolved as an actor from the time of Josh and this time he did action sequences to attract the masses. Unlike his earlier flicks, Naga Chaitanya has come up with good dances too. However, he still needs to work on his expressions and dialogues while pulling off the intense and emotional scenes.
Kajal Agarwal looked stylish with splendid outfits but her weird hair-do's did not suit her. She has put up blue eyed lens. Chinmayi, who dubbed for Samantha in YMC, has dubbed for Kajal in Dhada, but it did not go well with her.
Sriram as Chaitanya's brother is good, Sameeksha is acceptable. Brahmanandam and Ali are wasted, Venu Madhav and Uttej are irritating, Mukesh Rishi is fine, Rahul Dev and Kelly Dorgee are adequate.
Technical Analysis
Cinematography by Gnanasekhar is on the top notch and is the biggest asset of the film. The film was shot in the amazing locales of Bangkok, Philippines, Newyork etc. Each and every frame looked rich. Devi Sri Prasad has delivered his regular best and a couple of songs are good on-screen but the misplacement of songs makes them dispassionate. Background score is good and elevated few scenes. Abburi Ravi dialogues were good. The action scenes are well choreographed and looked stylish. However, Editing is pathetic and screenplay is poor. Ajay Bhuyan has come up with poor storyline that lacked substance. Debutant Ajay Bhuyan except in a couple of scenes here and there, failed to make his mark with his directorial abilities.
Analysis
Dhada takes off on an interesting note but it looses its grip slowly. The whole story gets revealed in first few minutes and the rest carries with predictable screenplay. The story has no twists and turns and has absolutely nothing to offer for a regular moviegoer.
The comedy is other let down in the movie. Brahmanandam, Ali and other comedians roles are merely wasted. The makers have forcibly inserted few comedy scenes into the script which is quite annoying. D.Siva Prasad Reddy spent a bomb on the movie that can be seen in every aspect for this senseless and illogical project. The title Dhada seems to be apt for the buyers and exhibitors as the chances for the film to survive at the Box-Office are quite low.
Final Verdict
Dhada- A letdown...
Naga Chaitanya misses his hattrick