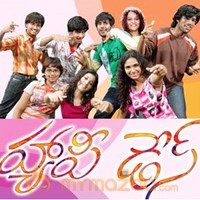 Happy Days Review
by

MyMazaa.com
---
Shekhar Kammula made his debut into films with 'Dollar Dreams'. Later, he ventured into Telugu films and his first movie 'Anand' starring Raja and Kamalini Mukherjee, was a big hit as it was a different from routine film. As the tagline of the film suggested, the film is really tasted like a good coffee. His next film is 'Godavari' featuring Sumanth and Kamalini Mukherjee. This film too was proved a good hit.
After two big successes, Shekhar ventured into the third movie with all new faces. At the same time the film featured the 'Happy Days' of college life and he made it again to achieve a hattrick. This time the director targeted the youth in particular.
A team of students join engineering college. Of them ChandraShekhar @ Chandu (Varun Sandesh) Madhumati @ Madhu (Tamanna), Rajesh (Nikhil), Appu (Gayatri Rao), Tyson (Rahul) and Chandra (Vamsikrishna) become good friends. As usual, the seniors rag the juniors and the juniors used to obey the seniors. One of the seniors order Madhu to come to the college in a half-saree. Chandu loses his heart once he saw Madhu in half saree. Their friendship grows to such a level that Chandu opens his heart innocently that he wanted to kiss her, while doing combined studies. Madhu's father happens to listen those words. Being a father's child, Madhu stops talking with Chandu. For almost two years their friendship fails to blossom again.
However, both of them continue to love each other in their hearts and same is the case with Rajesh and Appu. Of them, Tyson is brilliant chap and he used to do several wonders with his intelligence. Once, Tyson finds Chandra's girlfriend (Monali Choudary) with some other boy and warns Chandra to forget her. He fails to listen to Tyson. Then he tries to tell that girl not to cheat Chandra, and in a fit of anger slaps her. This causes heartburn to that girl who instigates the seniors, one of whom was her brother, and also Chandra. They bash him up. In another case, Tyson loses his heart to a senior Sravanti (Sonia). But she has some other plans to continue her education in the US and she refuses friendship with Tyson. Will Chandu able to patch up with Madhu? What happened the friendship between Appu and Rajesh? Did Chandra realise that his girlfriend really ditched him? Answers to all these questions form part of the climax.
Performance:
Chandu (Varun Sandesh): Though there are four heroes in the film, Sandesh could be considered as the main hero as he dominated all the other characters and appeared the leader of the gang. He also got a good footage all through the film. Though a novice, he performed well. Especially in the love and romantic scenes and other scenes with college in the backdrop, he showed good body language.
Madhu (Tamanna): Though she appeared in modern attire, i.e, in jeans and shirts, she appeared very homely. She is glamorous in modern outfits and at the same time gorgeous in half sarees and sarees. She too gave a brilliant performance along with Sandesh. Especially, she expressed good anger in her eyes and in facial expressions.
Rajesh (Nikhil): This is another major character that has good footage all through the film. Though he is the son of an MLA, he could not do anything in front of seniors and he provided good comedy in the movie. His language with Telangana slang is good to listen and his expressions and body language in convincing the other friends is worth watching.
Tyson (Rahul): This is another major character in the film. He is a very intelligent guy. He wants to do something in Robotics. He had good interest in computers and he used to do wonders with his experiments in physics and chemistry. Moreover, his body language in saving the friendship, helping friends and in maintaining friendship is also worth watching. The way he wanted to win the love even by going to the US as a junior to his lover again, wets the eyes of the audiences.
Vamsikrishna, Sonia, Gayatri Rao, Monali Choudary and others also did justice to their respective roles. Kamalini Mukherjee made a guest appearance as a lecturer and looked quite romantic in a couple of scenes. Other who played the roles of seniors looked very apt in their respective roles.
Technical:
Music: Though both the earlier films of Shekhar Kammula had KM Radhakrishnan as music director, this time the director-cum-producer chose Mickey J Meyer and he gave melodious tunes to all the songs. While a couple of them were based on melody the others suited the taste of youth.
Camera: Vijay C Kumar's cinematography during songs is fantastic. He tried new angles and especially the one that was shot with Vizag beach in its backdrop is beautiful. Even the scenes with college backdrop also came out very well. Especially, he was able to capture the moods of the heroes and heroines of the film perfectly. He gave the feel as if we were watching some incidents that are just happening in front of us and the audiences don't get a cinematic feeling at all. He perfectly moulded the moods and idea of Shekhar Kammula on the celluloid.
Editing: Marthand K Venkatesh edited the film. Though he did his perfectly, he might have forgot to cut short a part of the film as the length of the film is too long and it stretched for more than two and a half hours. In fact, he could nod to do so, as the scenes were so interlinked and make the audiences immerse in it unknowingly due to the magic spell of director Shekhar Kammula.
Location: A major part of the film was shot in Chaitanya Bharati Institute of Technology (CBIT). In fact, the CBIT management of stopped giving permission for shooting films on their campus long ago. Being an alumnus of the college Shekhar Kammula convinced the management to shoot the film on their campus.
Director: Once again Shekhar Kammula came up with a clean and neat film. So far, several directors destroyed the college atmosphere in films and portrayed it in indecent and awkward manner. Criticising the lecturers, showing them as buffoons, showcasing the principal as a fool and other such scenes are routine in Telugu films mostly. But Shekhar Kammula showed the real college atmosphere on the screen.
Producer : Shekhar Kammula is a very intelligent producer too. He cut the cost of the production on a big way in different ways. He chose new faces for the entire cast, he saved in the form of remuneration to the cast. Next he shot a major part of the film in CBIT, which saved him the cost of erection of sets etc. He partnered with 'Pantaloons', which helped him in saving the cost of costumes budget in a major way. Above all, he provided boarding facilities to the cast and crew in Treasure Island which he got at a reasonable price.
Remarks: Running a college radio, starting anti-ragging squad in the college itself are the innovative ideas of Shekhar Kammula, which could be introduced in the college, and they would be really useful for the college students. Generally there is a wrong notion that youthful films are not advised for family viewing. But 'Happy Days' proved it wrong as the film reflected the mindset, views and aspirations of the youth. It is a movie which everyone can enjoy.
Release date (US): September 28, 2007
Release date (India): October 2, 2007