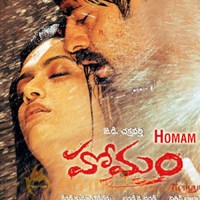 Homam Review
by

MyMazaa.com
---
Jagapatibabu proved his versatility by playing family sentiment films and also in action films. In fact, it is Ramgopal Varma who gave him a different action hero image with his film 'Gayam'. He also played a little rough characters in films like 'Antahpuram, Hanuman Junction, Brahmastram, Samanyudu and Lakshyam.' Keeping all this in view, and with an inspiration from a recent blockbuster like 'Pokiri' where the hero played undercover cop, the story of 'Homam' took shape. There are two heroes in the film. While one hero stays with the mafia though a cop, another hero plays police, though he helps the mafia.
Malli (Jagapatibabu) is a police officer. Though he is an orphan, DIG Viswanath (Pradeep Rawat) brings him up like his own son and makes him a police officer. However, to nab an international mafia gang led by Daddy (Mahesh Manjrekar), Viswanath sends Malli as an undercover cop to the mafia gang and the latter turns a trusted worker for Daddy. He almost believes Malli as his right hand. With the help of Malli, Viswanath and his team tries to corner Daddy and his gang, but could not arrest them due to lack of evidence. Malli falls in love with a doctor (Mamata Mohandas). He takes him to his ailing mother who was in the hospital. At this juncture, Daddy reveals that his person was in the police department. Chandu (JD Chakravarthy), who was a commissioner of police, is the one who was helping Daddy's gang. At the same time, Viswanath also tells Daddy that his man was also with Daddy's gang. So both the teams break their heads to find out the black sheep. But they could not do so. Malli once visits the hospital and doctors tell him that he should keep his mother happy always. Malli reveals his identity but is mother did not believe it. To prove his words correct, Malli tells Viswanath to visit his mother once. At the same time, Daddy's gang attacks the building and in the melee, Viswanath dies. After a few days, Chandu, in order to escape from the blackmailing tactics of Daddy, shoots him to death in an encounter. How Malli proved that he was the undercover cop? What kind of tricks Chandu played to hide the fact? Did Malli was able to return to his duty instead of working as undercover cop? What kind of lesson Malli teaches to Chandu? Answers to all these questions form part of climax.
PERFORMANCE:
Jagapatibabu is the perfect fit to the role. He toned up his muscles and with a light beard, he appeared a little rough and suited well in the role as a goon in a mafia gang. He is at his best in portraying different emotions in various scenes. While he was rough as a goon, he appeared quite innocent in sentiment scenes. Especially, his performance while trying to convince his mother that he is a police officer is simply superb. JD Chakravarthy is also equally good as a cop who helps the mafia gangs. He did not feel shy to stay with an undergarment before the camera and before a heroine to evoke a little laughter from the audiences, despite the fact that he himself is directing the movie. His character which has a negative shade is apt and he did justice to his role. Mamata Mohandas and Madhurima filled the glamour slot well. Perhaps for the first time, Pradeep Rawat appeared in a soft role and Mahesh Manjrekar gave freshness to the audiences in a villain's role. Other roles played by Brahmaji, Raja Ravindra and Ahuti Prasad are also okay. Prabhakar who played the hero's buddy did justice to his role.
TECHNICAL:
JD Chakravarthy, who had a passion for direction, learnt a lot from his mentor Ram Gopal Varma by working as his associate for many films by distancing himself from acting and the Tollywood. Especially, he chose a different method in the taking which resembled the Hollywood action films. He scripted the screenplay with perfection and did not lose grip on the story at any point of time. Though he made a couple of errors especially while killing the characters of Pradeep Rawat, Mahesh Manjrekar and Prabhakar and in fact he failed to establish the scenes properly. Music by Nithin Raikwar was novel. The choreography of the first song and the last song, which contains chides (thitlu), is good. The director chose a different way of shooting songs by involving both the heroes and heroines in the same song. Camera work by Bharani K Dharan suited the mindset of the director and the editing by Bhanoday is also adequate.
REMARKS:
The director should have concentrated a little more in love and romantic scenes between the heroes and heroines. Another basic draw back of the film is the lack of comedy. MS Narayana failed to tickle the funny bone of the audiences with his comedy at all. As a whole the film may go well with the city audiences, and one had to wait and watch how big the film could attract the mass and youth audiences.
Cast: Jagapatibabu, Chakravarthy, Mamta Mohandas, Madhurima, Mahesh Manjrekar, Pradeep Rawat, Brahmaji, Raja Ravindra, Ahuti Prasad, MS Narayana, Dubbing Janaki and others
CREDITS: Camera €" Bharani K Dharan, Editing €" Bhanoday, Lyrics €" Suddala Ashok Teja, Music €" Nithin Raikwar, Art €" Satya, Producer €" Kirankumar Koneru, Screenplay and direction - JD Chakravarthy.
Banner: Shreya Productions
Released on: August 28, 2008