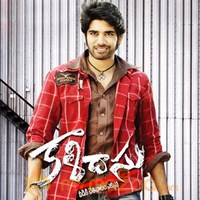 Kalidasu ( 2008 ) Movie Reviews
Kalidasu ( 2008 ) Review
by

MyMazaa.com
---
It is quite common for many debut heroes to have a poor glamour. Sushant, yet another grandson of Akkineni Nageswara Rao, is not an exception to it. After staying for some time in the US, Sushant, who had a passion towards acting, returned to India.
Noticing his enthusiasm, Nagarjuna, the maternal uncle of Sushant, decided to promote him. But, he remained in the back stage and brought out the film by presenting in the name of Annapurna Studios, while Sushant's mother A. Naga Suseela turned a producer with Chintalapudi Srinivasa Rao as co-producer.
The outcome is 'Kalidasu' which was produced on the banner of Sri Nag Corporation. Tamanna was roped in as heroine in the film, and her recent hit 'Happy Days' helped 'Kalidasu' to turn a commercial success. G Ravicharan Reddy wielded the megaphone for the first time for the story scripted by the producer Srinivasa Rao.
Kalidasu (Sushant) turns orphan after his father (Nagababu), who was a sincere police officer dies in the hands of a factionist contractor (GV) in Rayalaseema. Kalidasu in turn kills that contractor and escapes from the place and reaches Guntur. A fruit vendor Kanakadurga (Jayasudha) brings him up though she had a son called Jayadev (Vamsikrishna). Kalidasu decides to help Kanakadurga financially as she was in a debt trap and turns a car-lifter. He gets support from Baba (Chalapati Rao) and his son Basha (Sunil) becomes one of Kalidasu's best friends. When Dev wants to pursue his studies in Hyderabad, Kalidasu sends him to Hyderabad. After meeting Dev in Hyderabad, Kalidasu lifts a car to return to Guntur in which a girl hides. On being asked she pretends as if she is mentally challenged and tells him that her name is Mirchi (Tamanna). But Kalidasu did not believe her. His belief proved correct as some goons led by Pratap (Vinodkumar) and Ajay (Ajay) take her away by killing Basha. Kalidasu goes in search of Mirchi after finding Dev's photo in her mobile, only to find that he was already killed by Pratap and his men and the reason behind it is the instigation by a political leader (Rajan P Dev) and Mirchi's original name is Archana and she is a rich girl. Pratap is after her property and want to bequeath her property by getting her married to Ajay. How Kalidasu took revenge against the killing of his best friend Basha and a brother-kind of boy Dev form part of the climax.
The director was able to maintain good tempo all through the film. He did never lose grip on the story. He moulded the hero's character with a sole aim of giving him a mass image.
Sushant too showed excellent ease in dances and action scenes, despite it is his debut film. Tamanna too looked gorgeous in the film in ultra modern outfits. She was very romantic all through the film. Though there is not much scope to prove her acting talents, her role was moulded in a near sexy way.
Vinodkumar, who played hero a few years ago, proved that there is a good artiste in him by playing a negative role. Ajay gave his best, while Rajan P Dev did justice to his role. Jayasudha and Tanikella Bharani played routine roles. Ravibabu and Sunil filled the comedy slot.
When it comes to technical part, the director though maintained good grip on the subject with good entertainment values, he neglected certain scenes. Especially, there is no mention about his childhood days in the future. The killing of GV has no reference in any of the scenes that come later. Some other scenes have no logic on the screen, especially, the students keeping quiet, when the same hero helped them a lot on earlier occasion.
Choreography of action scenes, though appeared stylish, it has a lot of thread work, which made the audiences laugh at the scenes. The make-up artistes should have taken more care in showing the hero in a glamorous way.
Sushant, should improve his physique and at the same time try to improve his glamour if he plans to stay back in film industry.
Music by Chakri is good and the situational songs like 'Chori Chori€¦Bari Bari Robbery€¦' song had a good lyric value. All the songs are good to listen and were also choreographed well. The production values of Sri Nag Corporation are adequate.
Cast: Sushant, Tamanna, Vinod kumar, Rajan P Dev, Ajay, Sunil, Kumar, Santosh Pawan, Nagababu, GV, Jayasudha, Hema, Surekhavani, Shakeela and others
Credits: Dialogues €" Rajasimha, Camera €" Akhilan, Music €" Chakri, Lyrics €" Chandrabose, Action €" Kanal Kannan, Presents €" Annapurna Studios, Producers €" Chintalapudi Srinivasa Rao and A Naga Suseela, Concept and direction €" G Ravicharan Reddy.
Banner: Sri Nag Corporation
Released on: April 11, 2008