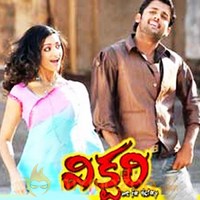 Victory Review
by

MyMazaa.com
---
Nithin, who entered the films with 'Jayam' had a couple of hits to his credit. However, he started tasting failures successively. He was off the screen for some time and tried to make a come back with 'Aatadista' but that too proved a failure. As some of his contemporaries are making attempts to attract the audiences with six-pack bodies, he too made use of his leisure time to tone up his body. RR Movie Makers, which brought out a message-oriented film like 'Samanyudu' had come forward to produce a film with the same director and this time, Ravi C Kumar prepared a story with land mafia in the backdrop. Naturally, when the hero fights with land mafia, should have the muscle power too and the six-pack body was expected to come in handy for the role. But the director miserably failed to run the film with a good tempo and the haphazard and chequered screenplay spoiled the dreams of Nithin, who kept high hopes on success.
Vijay (Nithin) is an unemployed graduate who wants to become a police officer. He loves his parents (Tanikella Bharani and Sana) very much. In order to get him married, Vijay's father posts his details in a matrimonial website. Looking at the details Janaki (Mamata Mohandas) loses her heart to him. In the city, there are two land mafia gangs run by Devaraj (Asuthosh Rana) and Pandu (Supreet). Once Devaraj attacks Pandu and severs his hand and the latter craves to take revenge against Devaraj. Vijay has two good friends (Shashank and Duvvasi Mohan). Once Vijay's friend applies for personal loan, and Janaki being a bank officer visits his shot for inspection and happens to see Vijay there. In one of the gang wars, Devaraj's follower dies in the hands of Pandu's men and the gang enforces a bandh. A crime reporter (Sindhu Tulani) who was covering the event notices Vijay thrashing one of the gang members who were forcing the bandh. He comes to his rescue in police station. They become good friends. But Vijay's friend falls in love with her. At this juncture, Devaraj grabs a vast land in Sitarampuram in which Vijay's father also owns a plot. The land grab shatters the hopes of many but no one could dare to question Devaraj. Now, Vijay and his friends decide to set the things right and teach a lesson to the land mafia in general and Devaraj in particular. How they taught a lesson to Devaraj forms part of the climax.
PERFORMANCE:
As far as performance, Nithin though appeared with a six-pack body, really failed to stand upright to meet the expectations of the audiences. It is not an exaggeration to say that the director failed to elevate his image as he could not etch the hero's character well. No effort was made to elevate the heroism of Nithin in any scene. None of the action scenes were choreographed in a stylish and fitting manner. But for the fight with Ajay, none other fight is impressive. Shashank, who played the second fiddle and the sidekick of the hero, was also unimpressive. There is no proper weight in his role as well. Mamata Mohandas, who played the role of a bank official, has neither filled the glamour slot nor had any scope for performance. Sindhu Tulani is okay in her role as a TV journalist. The only impressive performance in the film was from Asuthosh Rana. However, his character resembles the performance of Prakashraj. Comedy by Brahmanandam, Ali, Krishna Bhagawan, Ravibabu failed to impress the audiences at all.
TECHNICAL:
Chakri, who gave memorable tunes for many films, miserably failed to give any lilting tunes in the film. None of the songs are worth listening and in the absence of proper music, their picturisation was also miserably failed. Camera work by Vijay C Kumar and editing by Krishna Reddy are okay. Fight masters Ram-Lakshman failed make use of the six-pack body built up by Nithin with poor action choreography. Though the director chose to say something on land mafia, he failed to correlate the different elements and failed to present them properly. The director completely failed in mixing several elements like action, sentiment, love and above all the gang wars of land mafia. He could not establish the love between both the pairs led by the hero and his friend. The climax was also quite poor. It appeared quite cinematic as a don, who runs the biggest land mafia, gets kidnapped by an ordinary young man and reveals everything on his own without using his mind. Once again, the director tried to show the government departments as corrupt which is unbecoming on the part of a good banner. Moreover, the film lacked the entertainment values as well.
COMMENTS:
Director Ravi C Kumar, who had brought out a blockbuster like 'Samanyudu' did a shoddy job in this film with improper planning, rubbish screenplay and bad mix of different elements. He failed to do justice to any of the scenes and made the film very boring with no interesting twists nor good movement of the movie. One can happily avoid watching the film as it has no trace of entertainment either through comedy or from actions scenes.
Cast: Nithin, Shashank, Mamata Mohandas, Sindhu Tulani, Asuthosh Rana, 'Allari' Ravibabu, Ajay, Tanikella Bharani, MS Narayana, Duvvasi Mohan, Supreet, Krishna Bhagawan, Nuthan Prasad, Ranganath, Tarjaan, Narsing Makkala, Devadas Kanakala, Kadambari Kiran, Vizag Prasad, and others.
CREDITS: Lyrics €" Chandrabose, Action €" Ram-Lakshman, Editing €" KV Krishna Reddy, Camera €" Vijay C Kumar, Music €" Chakri, Presents €" K Atchireddy, Producer €" Venkat, Story, screenplay and direction €" Ravi C Kumar.
Banner: RR Movie Makers
Released on: June 27, 2008