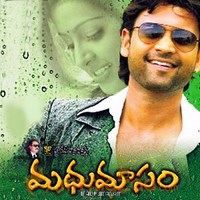 Madhumaasam Movie Reviews
Madhumaasam Review
by

MyMazaa.com
---
After giving an excellent film on human relations like 'Aa Naluguru', Chandra Siddharth got another good opportunity to work another film on the emotional part of life €" The love. Really the film had an excellent twist in love and the director had handled the love subject with a gripping screenplay. Though the film had two heroines and a hero, it is not a triangular love story. The director was able to show excellent contrast in both the heroines. Sumanth also played a very good role as a hero and his character had different shades.
Sanjay (Sumanth) is a practical man. He looks everything practically and doesn't have any soft corner towards love. His parents (Chalapati Rao and Kavita) always honour his feelings. Hamsa Vahini (Sneha), is an employee in MAA TV, She stays with her father Ramanatham (Giribabu).
Hamsa happens to meet Sanjay in a marriage and loses her heart to him. Incidentally, Hamsa and her father let out a portion of Sanjay. After a few incidents, Hamsa proposes to Sanjay and he tells his parents that he is ready to marry Hamsa. But, Sanjay tells her that he just liked her and doesn't accept that he loved her. Hamsa refuses the alliance as she wanted to marry a person who loved her. Hamsa, who was in a depression, first decides to leave for the US on the advice of her sister in law, but soon finds that no one loves her and were selfish.
Hamsa starts hating love. But, by that time Sanjay realizes what real love is and starts loving her. But Hamsa refuses his love. In order to make a final trial, Sanjay wants to meet Hamsa and comes to know that she left for Srisailam. To have a final say on his love, Sanjay decides to some how meet Hamsa and reveal his love. The bus in which Hamsa was traveling meets with an accident and Sanjay saves almost all the passengers including Hamsa.
Though Hamsa's friend tries to convince her that Sanjay saved them just because he loves her so much, she refutes it saying Sanjay has a nature to help anyone who is in need. But, she realizes the fact when Sanjay's friend Maya (Parvati Melton) reveals her that Sanjay had decided to sacrifice his life for the sake of the surgery of Hamsa, which costs around Rs 10 lakhs. To save her life, Sanjay accepts to marry his niece though he did not like her. Mays tells her that she missed a very good lover. Hamsa, reaches the railway station, but misses the train. When she starts crying, she finds Sanjay and the film ends on a happy note with their union.
The film had a very good story and at the same time, the director gave it furthermore good treatment. Sumanth, proved his mettle and proved that he could perform excellently in portraying the emotional scenes. Though his role was portrayed as a very calm going, when the time comes he proved that he could show his heroism in teaching lessons to goons.
It is well aware that Sneha is a good performer. In this film, she looked glamorous and also gave a very good performance once again. Parvati Melton played a nonchalant girl and is gorgeous in looks. There was a good contrast in the main female characters. Another plus point is the screenplay by Chandra Siddharth and he narrated the film excellently.
Music by Manisharma is melodious. The choreography of a song in an old black and white film is a novel experiment and attracted the audiences. Dialogues by Satyanand were good. Though the editing by Marthand K Venkatesh is good, he failed to join the scenes related to Suman Shetty well. The only draw back is the comedy part. The director should have avoided the routine comedy scenes like doctor, surgery, keeping cell phone inside the patient's belly. The comedy by Siva Reddy also looked boring with his routine mimicry.
Cast: Sumanth, Sneha, Parvati Melton, Venkat, Chalapati Rao, Ahuti Prasad, Giribabu, Ravi Kondala Rao, Naresh, Ravibabu, Gundu Hanumantha Rao, Siva Reddy, AVS, Dharmavarapu Subrahmanyam, LB Sriram, Uttej, Kondavalasa Lakshmana Rao, Sudarshan, Venumadhav, Suman Setty, Surya, Seema, Kavitha, Siva Parvathi, Ashmita and others
Credits: Story €" Balabhadrapatruni Ramani, Dialogues €" Satyanand, Camera €" Sudhakar Yekkanti, Editing €" Marthand K Venkatesh, Lyrics €" Veturi, Suddala Ashok Teja, Pedda Murthy, Music €" Manisharma, Producer €" Dr D Ramanaidu, Screenplay, direction €" Chandra Siddharth