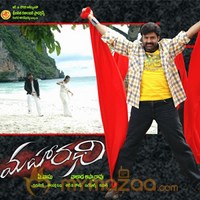 Maharadhi Review
by

MyMazaa.com
---
Balakrishna's fans have kept lots of expectations on 'Maharathi' directed by P Vasu of Chandramukhi-fame and produced by Vakada Appa Rao on the banner of Sri Lalitha Kalanjai Productions. In the wake of no worthy hits, 'Maharathi' gave Yuva Ratna Balakrishna some solace. However the directorial abilities of P Vasu helped him a lot in making the film a hit.
Chamundeswari (Jayaprada) is a rich woman and she is so arrogant and proud that she divorces her husband Naresh Rayudu (Naresh) and gets separated from him. They have two girl children. As per court orders the elder girl Bhairavi (Sneha) stays with Chamundeswari, the younger one Kalyani (Meera Jasmine) remains with Rayudu. Kalyani completes her MBA and loves her father very much. She wants to be number one in all aspects and chooses only number one in every aspect. Rayudu runs a music school, in which Bala (Balakrishna) is the teacher.
Chamundeswari after staying for so many years in London returns to India and starts a dance school. She too wants one of the best dance teachers for her school and finally ends up in selecting Krishna (Balakrishna) as dance teacher. Chamundeswari's ambition is to get Kalyani join her school and Krishna realizes her dream with his ability. Kalyani falls in love with Krishna, and Bala encourages her to love Krishna. On learning that Kalyani is loving Krishna, Rayudu though refuses in the beginning, was forced to go bring him as Kalyani demands that she wanted to marry Krish alone. Rayudu, though not interested to talk to Chamundeswari, has no option but to plead with her to convince Krishna for the marriage. Shedding her inhibition, Chamundeswari asks Krish to marry their daughter. Then both of them come to know that Bala and Krish are not two but only one. Here, he reveals the real story in a flashback.
Balakrishna (Balakrishna) is the son of Sarala (Kovai Sarala). Bhairavi (Sneha) reaches India to set up a music and dance school. She falls in love with Balakrishna, noticing that he is kind and good at heart. However, Chamundeswari pretends that she accepted their love, but tells Sarala how rich they are and alleges that Sarala had resorted to male prostitution. In a disturbed mine, Sarala walks to the middle of the road dies in a road accident. Realising that Sarala died due to her mother's attitude, Bhairavi also ends life. Balakrishna feels sad for the death of both his mother and Bhairavi, but soon decides to teach Chamundeswari a lesson. Finally the film ends on a happy note with the union of both Rayudu and Chamundeswari and also Balakrishna and Kalyani.
Balakrishna looked smart, slim and worked quite hard for the success of the film. He showed very good ease in dances. Both the heroines Sneha and Meera Jasmine filled the glamour slot and gave a neat performance. Despite reaching middle age, Jayaprada was still good at dancing and performed Bharata Natyam bit which is a highlight of the film. Her performance as an arrogant lady reminded the audiences of her old classic 'Sitaramulu', in which she played a rich lady and paired opposite Krishnamraju. She dominated the character like Vanishri in 'Bobbili Raja'.
Vasu's directorial abilities are visible in every frame. The action scenes choreographed well to suit the mass audiences. The film sans the routine violence, bloodshed and coerce dialogues like other Balakrishna-starrers. Melodious music, directorial abilities P Vasu made the film a good watch. Comedy took a back seat in the film with no separate comedy track. Kannada music director Gurukiran gave both mass and melodious tunes to the film and it was already proved that the audio is a chart buster. Cinematography by Sekhar V Joseph is worth watchable, while editing by Suresh Urs is good. Balakrishna stone the show and made the film worth watching.
Cast : Balakrishna, Sneha, Meera Jasmine, Jayaprada, Naresh, Kovai Sarala, Pradeep Rawat, Venumadhav, Satyam Rajesh, Sutti Velu, Gautamraju, Lakshmipati, Srinivasa Reddy, Anant, Jayaprakash Reddy, Ashokkumar, Ali, Navneet Kaur, Sudeepa, Geeta Singh and others.
Credits: Story and dialogues €" Thotapalli Madhu, Cinematograph - Shekhar V Joseph, Editing - Suresh Urs, Action - Dalapati Dinesh, Presents €" Rangana Adiseshaiah, Producer €" Vakada Appa Rao, Direction €" P Vasu
Banner: Sri Lalitha Kalanjali Productions
Released on : February 1, 2007