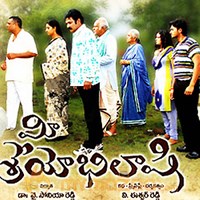 Mee Shreyobhilashi Movie Reviews
Mee Shreyobhilashi Review
by

MyMazaa.com
---
It is a theme that has been dealt with earlier. But it does manage to strike a chord with the audience every time, it is dealt with. Pathos somehow draws viewers. Though some times, sad endings may not always work. So, the best way to tackle such heavy subjects is to treat them in a lighter vein. Mee Sreyobhilashi is one such film. The film is a take off from a Japanese film Ikinai, where twelve men in deep debt take a bus trip to a mountain to fall off a cliff and commit suicide leaving insurance money for their families.
In this version closer home, Rajaji (Rajendra Prasad) is an elderly gentleman whose daughter commits suicide after being jilted in love. Heart-broken Rajendra Prasad decides to end his life. As he plans a death trip to Srisailam, he gathers others for a bus trip, so they can all fall off a cliff. However, their suicide pact becomes an open secret and police begin to chase them. Now, will they be successful is for you to figure out.
However, unlike the original, the director fails to establish the motive for others in the journey to commit suicide convincingly. The film loses pace along the way and you wish the director had better control on the way the film progressed. Somehow, there is an effort to make the audience sympathise with the characters, rather than helping them to emphatise with their reasons. But the main strength of the film lies in handling such a serious subject in an entertaining way. At least, the director makes a sincere effort in trying to incorporate some laughs to make it watchable. So it is not weep-weep all the way.
The plot hardly moves in terms of geography and most of it is shot in the bus. Yet, you do understand that it is pertinent to the script not to wander around. However, like all such movies, Eeswar Reddy gets carried away once in a while and tries to prove a few too many points. You wish he could have left the audience to move with the characters along the plot, instead of trying to pinpoint where to look and what to look for.
Koti has not much to contribute. There is one song that is in the promos.
But the supporting cast does their bit to make the viewing easy for us. Naresh (senior), Raghu Babu, Ali, all have good roles and they perform rather effortlessly.
However be warned that mass suicide pacts are a common phenomenon in Japan. Be open to watch something you may not relate to entirely in India. From our side, we feel it€™s a laudable effort. But it is for you to decide if you would want to watch such touching subjects. Of course, there is comic relief. Still, if you don€™t mind carrying a hanky along, then venture out to watch it.
Cast: Rajendra Prasad, Naresh, Krishna Bhagwan, Ali, Brahmanandam
CREDITS:
Producer: CC Reddy
Music: Koti
Director: Eeswar Reddy
Release Date: December 28, 2007