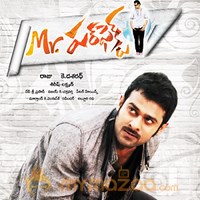 Mr Perfect Review
by

MyMazaa.com
---
Story:
Vicky (Prabhas) works in Australia as a game developer and likes to live his life as he desires and never compromises or adjusts for anyone. On the other hand, Priya (Kajal Agarwal) is a traditional girl and quite contradictory to Vicky's nature. Vicky comes to India to attend his sister's wedding. Meanwhile Vicky and Priya family heads, Nazar and Murali Mohan fixes a match for them and asks the duo to take their time and tell their opinion. While Priya likes his attitude slowly and falls for him, Vicky rejects her saying they are not made for each other and heads back to Australia for his job. Tapsee, daughter of Prakash Raj offers a project to Vicky and their friends in their company. Sooner, Vicky and Tapsee fall in love with each other who has similar attitudes. But Prakash Raj wouldn't be happy with them and makes a deal with Prabhas to get the approval from four relatives who attend his first daughter's wedding. Here comes a twist where Priya also attends the same wedding. What happens from there is the rest of the story.
Performances:
Prabhas is apt for the role and yet again he proved himself as Mr.Perfect when it comes to the looks or performance. He looked dashing in his unique and distinct look and has delivered pretty good performance.
Kajal Agarwal has got a performance-oriented role and she has done a fabulous job. She looked traditional at the same time glamorous and her screen presence is extremely good. Her on-screen chemistry with Prabhas is amazing and one of the highlights of the film.
Tapsee played a bold role in the film. She is charming and delivered a good performance. She has dubbed on her own for the film.
Other artists like Prakash Raj, Viswanath, Murali Mohan, Sayaji Shinde, Raghu Babu, Sameer were okay in their respective roles.
Technical Aspects:
Music by Devi Sri Prasad is good and three songs make good watch also the back ground score is good in parts. Cinematography is outstanding. The camera work and visuals are an eye feast to the audience. Songs were shot lavishly in the exotic locales of Australia. Director Dasaradh failed to establish the scenes in the second half in a convincing manner that has become curse to the film. Screenplay is highly predictable, which is a major disadvantage. Abburi Ravi's dialogues are good on the whole. Editing by Marthand. K.Venkatesh could have been much better especially the second-half has some lengthy unnecessary scenes. Production values by Sri Venkateswara Cine Creations are standard.
Plus Points:
Lead pair casting & their look
Prabhas & Kajal's On-Screen chemistry
Cinematography
Well-shot songs
Minus Points
Screenplay
Slow narration
Comedy not upto the mark
Analysis:
Mr.Perfect is a routine, regular family entertainer and lacks uniqueness. The first half of the film is enjoyable with some entertaining and fun-filled moments while the second half goes on a highly predictable note, packed with family drama and sentimental factor with heavy dialogues. The slow narration and outgripping screenplay takes away your interest in the second half.