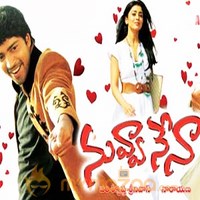 Nuvva Nenaa Movie Reviews
Nuvva Nenaa Review
by

MyMazaa.com
---
Story
Avinash (Allari Naresh) is a pick-pocketing thief. He along with his cousin Chanti (Ali cheats a police and tries to run away with 60 Lakhs to Hyderabad from Amalapuram. However, he comes across Dr. Nandini (Shriya) and falls in love with her at the first sight. On the flip side, there is Anand (Sharwanand) a timid guy who comes for the treatment to Dr. Nandini through his father. Anand who gets frightened for very small things gets slowly curable with Nandini's treatment and in this regard he starts liking her. Both Avinash and Anand comes to about each other and the love towards Nandini and they starts their own game of impressing her and at the same time destroying the each others image. In the mean time, enters the Don Aaku Bhai (Brahmanandam) who also falls for Nanidni. Will Avinash or Anand wins Nandini's love or Is there any third person forms the crux.
Performances
Allari Naresh is at his usual best. His comic timing and the way he utters one liners with high energy is pretty good. Sharwanand has done decent job in terms of comedy. Shriya is glamorous to watch out for. She performed well and is definitely a treat. Ali is humorous. Brahmanandam rocked the show in the hilarious don role. His character was neatly etched. Vimala Raman is okay in item number but the placement of the song is not apt. Others did an adequate job.
Technical Analysis
Cinematography is good; dialogues are apt with the needed punch. Direction is mediocre. Screenplay in the first half is good while the second half looked out of place. Editing is pathetic. Music by Bheems is alright while the background score by Mani Shama creates an impact. Production Values are mediocre.
Analysis
Nuvva Nena is run-of-the-mill subject and audiences have seen similar story many times while the director Narayana succeeded in making it a good first half he completely lost it the second half. The narration in the second half isn't convincing and it looked draggy though the run time was of just 2 hours. The director lost the grip in the second hour and he has finally come up with half baked product. The only plus point is the actors performances including Shriya's glamour.
Final Verdict
Thin storyline, predictable and dragged climax combined with bad screenplay makes Nuvva Nena a below average fare!!!