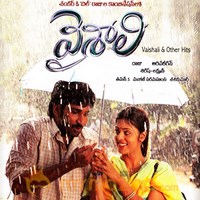 Vaishali Review
by

MyMazaa.com
---
Story:
The story practically flies off the runway when you see water dripping from an innocuous flat, flowing over the corridors, and alerting the watchman at 2.30 am. And then, all is pandemonium: a body is discovered in the bathroom, submerged in the tub. She's Ramya Balakrishnan (Sindhu Menon), a young housewife.Her husband Bala (Nandha) is away on a business trip, and the investigating police office calls in Vasudevan, AC (Aadhi, freshly shaven after his murderous debut in Mirugam), who supposedly knows the victim.
So Vasu visits the crime scene, braving the rain -- which is a regular fixture throughout the film -- and slowly, a back-story unravels: a younger Vasu and Ramya were in college together in Trichy. She is the daughter of a stern father who dislikes Vasu instantly, and he is a laid-back, charming young man who dreams of joining the police force.
But their love, like many others, runs through its own share of problems. That's why Ramya is married to someone else, and settled in Chennai.
Initially it was thought to be a suicide. But Vasu suspects some foul play. The needle of suspicion falls on Ramya's husband Bala (Nandha) and a few of her neighbours. But subsequent murders in the apartments deepen the mystery. The way the killings take place adds to the confusion and makes the narrative interesting.
A determined Vasu goes hammer and tongs to trace the killer. And he is shocked to find out the reason behind her murder.
Performances:
Sindhu Menon does very well as the girl torn in between forces beyond her control but it's the secondary characters who've excelled.
Aadhi fits the role of a police officer well, physically. Nandha has done good job.
Analysis:
Arivazhagan has succeeded in sustaining the interest of the audience. The film is technically rich thanks to the cinematography by Manoj Paramahamsa.
The way things unfold in the first half is really good. Arivazhagan handles the mystery and investigation very well, while he deftly incorporates the flashback scenes into the narrative as well.
Manoj Paramahamsa's camerawork is refreshing: somber and serious, with rain always threatening in some form in the present; normal and sunny in the Trichy flashback sequences.
The SFX team deserves a special pat on the back for the really cool special effects.
Finally: "Vaishali" is a crime thriller and a horror flick rolled in one. Young director Arivazhagan deserves applause for a script that has an unfamiliar story with interesting twists and turns.