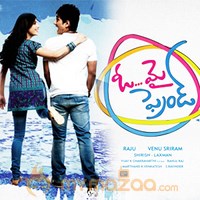 Oh My Friend Movie Reviews
Oh My Friend Review
by

MyMazaa.com
---
Story
Chandu (Siddharth) and Siri (Sruthi Haasan) are close childhood friends and the story revolves around the two. Chandu aspires to become a musician while Siri a classical dancer. Though everyone keeps misunderstanding them, they share a pure and platonic friendship. Chandu comes across Ritu, their old classmate from Sri Chaitanya College and falls in love with her at first sight. Simultaneously, Siri gets engaged to Uday (Navdeep). While everything seems to be pure and cool, jealousy and possessiveness enters their relationships. How does the four solve their problems for the relationships forms the crux of the story?
Performances
Siddharth delivers energetic and sparkling performance as Chandu. He followed his regular style of dialogue delivery, expressions and is convincing.
Shruti Haasan is a revelation and has given so far her best. She has been improving with each film but her Telangana accent looked weird. She looked stunning as well. Scenes between Siddharth and Shruti worked out really well.
Hansika has done a good job performance wise but the actress needs to take her body seriously and shed few kilos. She looked plump alongside Siddharth.
Navdeep proves yet again that he is a good performer. He is flawless. Ali is entertaining in his cameo and brings out few laughs, Tanikella Bharani is perfect as a father and rest of the cast were okay.
Technical Analysis
Rahul Raj's music is excellent with almost all songs being greatly shot. Mani Sharma's background score is another asset for the film. He tried to elevate each and every scene with his re-recording. Vijay C Chakravarthi's cinematography is on top class. Venkateswara Creations production values are rich.
Editing is crisp, dialogues are well-written while the screenplay is predictable at times. Debutant Venu Sriram direction is fine and has handled an ordinary yet sensitive subject decently.
Analysis
Oh My Friend comes up with a simple storyline that "Can a man and a woman be friends forever". The subject has been dealt by few directors earlier and so it reminds you of films Iddharu Mitrulu, Vasantham, Jaane tu ya Jaane na at places. Oh My Friend is enlightenment for the ones who feel that a man and a woman can never be friends. With the storyline being thin, the director has tried to made screenplay lively and narration interesting. Siddharth and Shruti Haasan's chemistry and the scenes between them were good. Though a pretty ordinary story, Oh My Friend can be watched for Sid & Shruti's enthralling performances.
Final Verdict
Oh My Friend appeals to urbane youth