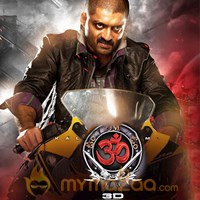 Om 3D Review
by

MyMazaa.com
---
Story
The story takes off with a fire blast and Arjun (Kalyanram) who gets saved in the blast narrates his story. He is the only son of Harishchandra Prasad (Karthik) who is a businessman and Sitara. Arjun and his father share a great bond and when their family's chief enemy and local politician Byrreddy (Rao Ramesh) attacks Harishchandra Prasad, Arjun keeps saving his father. Anjali (Kriti Kharbandha) enters into Arjun's life and the latter falls for her charm. Rhea (Nikisha Patel) daughter of Harischandra Prasad's close friend Ashok also comes into the picture. Arjun decides to go against his father wish of marrying Rhea and in this regard he comes to know some shocking twists that he was betrayed by his own people.
Performances
Kalyan Ram appears in a simple look and he delivers good performance in action sequences. The actor has done similar revenge stories earlier and Om gets added to the list but does nothing for him.
Nikesha Patel opts for glamorous look and oozes oomph into her role sporting a single piece bikini.
Krithi Kharbhanda impresses in her cute role. Karthik tends to go overboard at times, but leaves a strong impression though. Suresh is good, Rao Ramesh is decent. Others like Ahuthi Prasad, Sampath are okay.
Technical Analysis
Cinematography by Ajayan Vincent is attractive, while editing is inconsistent. Background score elevates the scenes to an extent. Sunil Reddy's direction skills are okay but he could have focused on story and screenplay which failed to impress. VFX works are poor. 3D shots in the film are good. Production values are standard.
Analysis
Om is technically a better film and the 3D shots in the movie has come out quite well but why the film has been made in 3D format in the first place remains as an unanswered question for this usual revenge drama. The shots don't add value to the script rather the needless use of 3D that ends up adding insensitivity and artificiality.
Apart from the 3D shots and cinematography along with a couple of twists, nothing impresses in Om. The story is yet another routine revenge saga with loud and clichéd sequences. Too many action sequences in the film only lead to confusion. Each and every conversation between the father and hero son is interrupted by a fight sequence. The entertainment factor is missing
Director Sunil Reddy has concentrated more on the 3D shots, and had the director put half the focus on screenplay, Om could have been a safe project. Though there are a couple of good twists in the second half, the director fails in taking the proceedings forward. Despite just 2 hours run time, the film doesn't fail to impress.