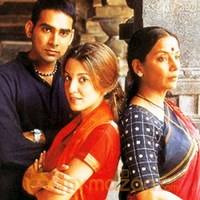 Raagam Review
by

MyMazaa.com
---
Music is divine and it is universal. Though there are different styles like Carnatic, Hindustani, Western and many more, the music will be the same but the presentation that makes the difference. Mahesh Dattani, a stage playwright, tried to blend different elements in his film like rural and urban cultures, young and old plus Carnatic and Western music. He however succeeded in his attempt in all aspects.
The story begins at a village where there is a classical Carnatic singer Swarnalata (Shabana Azmi). Her friend Vaishnavi (Ranjani Ramakrishnan) always accompanies her as a violinist. Swarnalata had a dream to perform a concert in a city, away from her remote village. She gets an opportunity and both Swarnalata and Vaishnavi start their journey in a bus to the city along with their children. However, the bus meets with an accident and falls from the bridge into a river. Vaishnavi and Swarnalata's son die in the mishap. But it turns a nightmare for Swarnalata. After 20 years€¦ Vaishnavi's son Abhinay (Prakash Rao) who used to make jingles wants to prove the real artiste in him instead of wasting his time for these petty things. He happens to meet Swarnalata, but she fears that Abhi would blame her for the death of his mother.
Accidentally Priyanka alias Pinky (Perizaad Zorabian) meets Abhi in the same village and decides to encourage him. They gather two more upcoming artistes, a jazz (drums player) and a guitarist and start a musical troupe. But they could not meet the expectations. Vexed over the defeat, Abhi returns to the village and pleads with Swarnalatha to come and sing in their group. First she refuses, but later relents. However, she could not make it to the programme as fear continues to haunt her while crossing the bridge. Then, she decides to train Pinky in Carnatic music. Besides their passion for music, Swarnalatha, Abhi and Pinky also share something else - the old accident on the bridge. It is Pinky's father, who in an inebriated condition, drives his car in a reckless way and causes the accident.
Pinky gets complete training in Carnatic music and the group is all set to perform on the stage. But Abhi and Pinky want Swarnalata to come and sing in their group, which she refuses. To their surprise Swarnalata attends the programme and at the instance of Pinky Swarnalata starts singing. The specialty of the stage performance is the right blend of Carnatic and western music, called fusion music. The film ends on a happy note with the fulfillment of Swarnalata's dream to perform in the city and Abhi's dream of blending the classic and western music in right sync.
The director picked the artistes in a chosen way. Top class performer like Shabana Azmi, a debutant in mainstream cinema Prakash Rao, an ultra modern girl like Perizaad Zorabian and versatile artiste Nassar and the like formed part of the lead artistes, who gave their best ever performance to make the film critically-acclaimed. Lillete Dubey played the role of Mrs Kapoor, mother of Perizaad Zorabian. The film is quite different from routine with no single duet or any love scenes between the lead pair. Though love is interlaced with the subject. As one rightly pointed out it is a contemporary story that artistically blends past and present, traditional and modern, young and old through the echoing sound of music, vibrant locations and great performances. The film was made in English and was dubbed in Telugu. Mani Sharma who is known for melody took the responsibility of music direction in the film, where he met the expectations of the director and the subject in his mind with a nice blend of classical and western music in tandem. A film worth watching with rapt attention.
Cast: Shabana Azmi, Prakash Kovelamudi, Perizaad Zorabian, Nassar, Dharmavarapu Subrahmanyam, Lillete Dubey and others.
Credits: Cinematography €" Rajiv Menon, Editing €" Srikara Prasad, Music €" Mani Sharma, Background score €" Amit Heri, Presents €" RK Tele Show, Producer €" K Raghavendra Rao, Story, screenplay and direction €" Mahesh Dattani
Banner: First Frame Entertainments