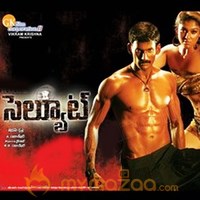 Salute Review
by

MyMazaa.com
---
Telugu audiences are familiar with Vishaal as hero with his hit films like 'Pandemkodi' and 'Pogaru'. He impressed them with his action scenes, though he is a little dark in colour. It is a little surprise that most of his films were produced by his brother Vikram Krishna and present by his father GK Reddy. Though brought up in Chennai, Vishal, being a Telugu by origin, could speak fluent Telugu. So he decided to go for a straight Telugu film and director Rajasekhar made his dream come true with an excellent mass-oriented police subject, which had a good message that the police and the God are one at the same and both of them had the power to punish anyone who is guilty. Presence of Upendra was a surprise, while Nayanatara added spice to the romantic songs.
Satyam's (Vishal) father is a tahsildar. He is a committed government official and gets killed by a quarry contractor. Though Satyam plans to take revenge, he shuns it, following an advice from Pratapa Rudra (Upendra) a sincere police officer. Taking him as an inspiration, Satyam completes his IPS and becomes an ACP. Home Minister Kondala Rao (Kota Srinivasa Rao) aspires for CM's post and decide to eliminate all the others who were in the race. He contacts Dilli (Ravi Kale) and tells them to kill his opponents Mahadevayya (Santana Krishnan), Chandramati (Apoorva) and Punyakoti (Jeeva). Even before Dilli attacks Mahadevayya and Chandramati, they die in the hands of some others. Naturally, Kondala Rao suspects it was the handiwork of Punyakoti. Satyam tries to save Punyakoti from death but fails to do so. However, he was able to nab the killer and to his utter dismay it is Pratapa Rudra. Upon being challenged by Pratapa Rudra that the Satyam can't do anything as a police to curb the crooked politicians, he sets out a plan and arrests Dilli, but he gets out of the court casually. To prevent recurrence of such incident, Satyam arrests Kondala Rao's aide Acharya. After a few turn of events, Acharya turns an approver. When Satyam takes him to court to make a confession, he gets killed by Dilli. Before this, Dilli also kills Satyam's mother. Satyam goes behind bars on the charges of killing Acharya. In order to prevent Dilli's arrest, Kondala Rao decides to make him a politician. Why Pratapa Rudra resorted to kill the polticians? Did Satyam was able to teach a lesson to the politicians? How he made the people realize who were the culprits? Answers to all these questions form part of climax.
PERFORMANCE:
But for Vishal and Upendra who played the key roles and Nayanatara who filled the glamour slot there is nothing to boast about the film. Vishal's performance a highlight in the film. He was so cautious in appearance and built the six-pack for exclusively for the film. The surprise entry in the film is Upendra. He appeared with clean shave in the flashback scenes, but when the story comes alive he is at his usual style with long hair. His performance and his challenge were quite natural and inspiring.
Nayanatara, though portrayed the role of a TV journalist, did not appear much in that job, and was chosen to shake her legs with the hero. She is quite romantic in a song and exposed overboard in that song. She appeared a perfect match to the hero.
Kota Srinivasa Rao is at his usual best as a crooked politician, while Ravi Kale is okay as his aide. Sudha Chandran of 'Mayuri'-fame appeared in an insignificant role of Vishal's mother. Comedy by Brahmanandam and Senthil fails to evoke any laughter. Tanikella Bharani and Hema played the parents of the heroine.
TECHNICAL:
Like all the earlier films in his career, the latest flick of Vishal, 'Salute' is also good in technical aspects. Especially the action scenes in the films, which are the forte of the hero, were excellently choreographed with lot of power and style.
Cinematography by RD Rajasekhar is good in both action scenes and in songs. Dialogues by Sashank Vennelakanti are good in parts. Especially the ones scripted for Upendra evoked good applause from the audiences.
Music by Harris Jairaj is also good.
Though not very melodious while listening to them, they appeared good on screen. The producer spent a whole lot of amount on the choreography of songs. One of the songs involving the children and super heroes is worth watching.
REMARKS:
Once again Vishal came up with an energetic performance in a fully loaded action thriller. He is a perfect fit as a tough cop with a well-built body. Though the storyline is based on cops, the message given by him at the end that it was the people, who had to teach a lesson to the corrupt politicians and cooperate with the police in teaching a lesson to the traitors who do harm to the society. A worth-watching film for those who love action films with police in their backdrop.
Cast: Vishaal, Nayanatara, Upendra, Kota Srinivasa Rao, Brahmanandam, Ali, Apoorva, Jeeva, Ravi Kaale and others
CREDITS: Dialogues €" Shashank Vennelakanti, Lyrics €" Sirivennela Sitarama Sastry, Sahiti, Chandrabose, Music €" Harris Jairaj, Choreography €" Brinda, Suresh, Costumes €" Ramana, Camera €" RD Rajasekhar, Editing €" Anthony, Action €" 'Stun' Siva, Effects €" Craig Muhma, Art €" Thotta Tarani, Presents €" GK Reddy, Producer €" Vikram Krishna, Story, screenplay and direction - Rajasekhar
Banner: GK Film Corporation
Released on : 14th August, 2008