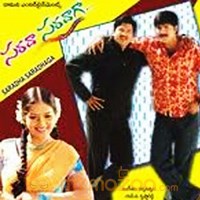 Sarada Saradaga Movie Reviews
Sarada Saradaga Review
by

MyMazaa.com
---
S.V.Krishna Reddy's 'Sarada Saradaga' is a take off from the hindi flick 'Maine Pyaar Kyon Kiya'. He tried to make yet another comedy entertainer and partly succeeded in his attempt. Though the movie has different and thin storyline, some sequences reminds us of his past films.
Raghava (Srikanth) runs a beauty parlor with the help of his friend Subba Rao (Rajendra Prasad). Raghava is hotly pursued by every female eye that sets its sights on him. In order to get him unentangled from the constant and unwanted attention, his secretary Ali (Ali) tells every girl that he is already married. Once Lavanya (Sindhu) meets Raghava as is client and love blossoms between the two. Ali tells the same even with Lavanya that Raghava is already married. This makes Lavanya get disappointed. The falsehood prevails and Ali makes it more complicated saying that Raghava's wife is a flirt and drunken. Rajendra Prasad brings Siri (Pranathi) into the scene to enact the fictitious role of Maya, Raghava's wife. In the process Ruthika (Rajendra Prasad's wife) doubts the chastity of her husband assuming an affair between him and Siri. And how Raghava brings everything into the light and proves his innocence forms rest of the story.
Performance:
Rajendra Prasad and Srikanth justified their roles. Rajendra Prasad's comedy is very limited. Ali's comedy is good. The humorous sequences with Brahmanandam did not appeal. Sindhu Tulani looks beautiful and performed her role well. Pranathi looks photogenic in her costumes. Ruthika, Shiva Balaji has very little part to play. S.V.Krishna Reddy succeeds in maintaining the humor throughout the film but fails to generate the expected amount of entertainment with his script. The music given by him fails to maintain the glory of his past films. Dialogues are good. The other technical aspects are ok.